Lloyd Mats 2016+ Chevrolet Camaro Custom Floor and Trunk Mat Collection
Lloyd Mats manufactures floor mats for Camaros with trademark emblems for the current 2016+ Camaro. Lloyd Mats are made under license from General Motors and feature all the popular and correct logos.
Available carpet mats include Ultimat and Velourtex. In addition to front mats, Lloyd Mats are made for all back seat, deck and trunk applications. All Lloyd Mats are precision made using computer driven cutting equipment and CAD created patterns for the greatest coverage and protection of your vehicle.
Carpet mats are made in matching and complementary Camaro interior colors for the 2016+ Camaro designs and including the new 2017 50th Anniversary Logo.
All Lloyd Mats come with factory compatible mat retention hardware, or Lloyd's proprietary mat anchoring device to keep mats in place.
Ultimat Features
Custom-made for a perfect low profile fit
A plush 32-oz. per yard of premium continuous filament yarn
5/16" Pile height
Two-ply yarn construction creates durability and density by weaving two yarn strands into one tuft
Matching continuous cloth edge binding can't unravel
Multi-layer backing maintains mat shape and protects OEM carpet
Water-resistant latex layer prevents fluids from seeping through
Non-skid rubber TractionBac™ also provides moisture protection
Comes with safety anchors if your vehicle doesn't have them
Velourtex Features
Quality custom floor mats with a similar look and feel to factory floor mats
Made of of 20 oz quality yarn superior to factory carpets
Multi-layer design offers durability, water protection, and traction
Factory compatible mat fasteners where applicable
Please see our Camaro collection below.
Lloyd Mat's CHEVROLET CAMARO 2017 COUPE Trunk Floor Mats EBONY ULTIMAT 50TH ANNIVERSARY LOGO - 600282 - (2017)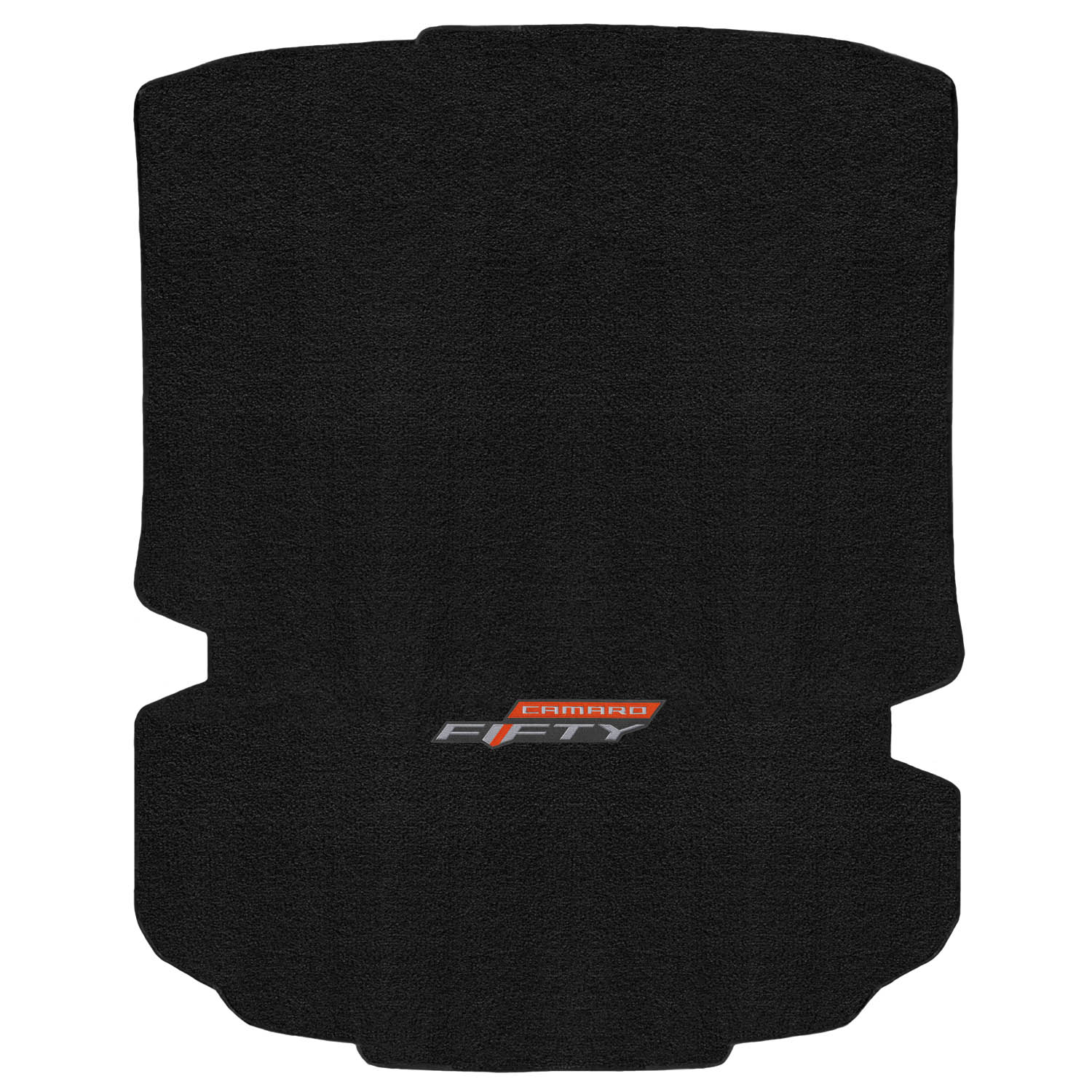 Lloyd Mat's CHEVROLET CAMARO 2017 COUPE Trunk Floor Mats EBONY VELOURTEX 50TH ANNIVERSARY LOGO - 620189 - (2017)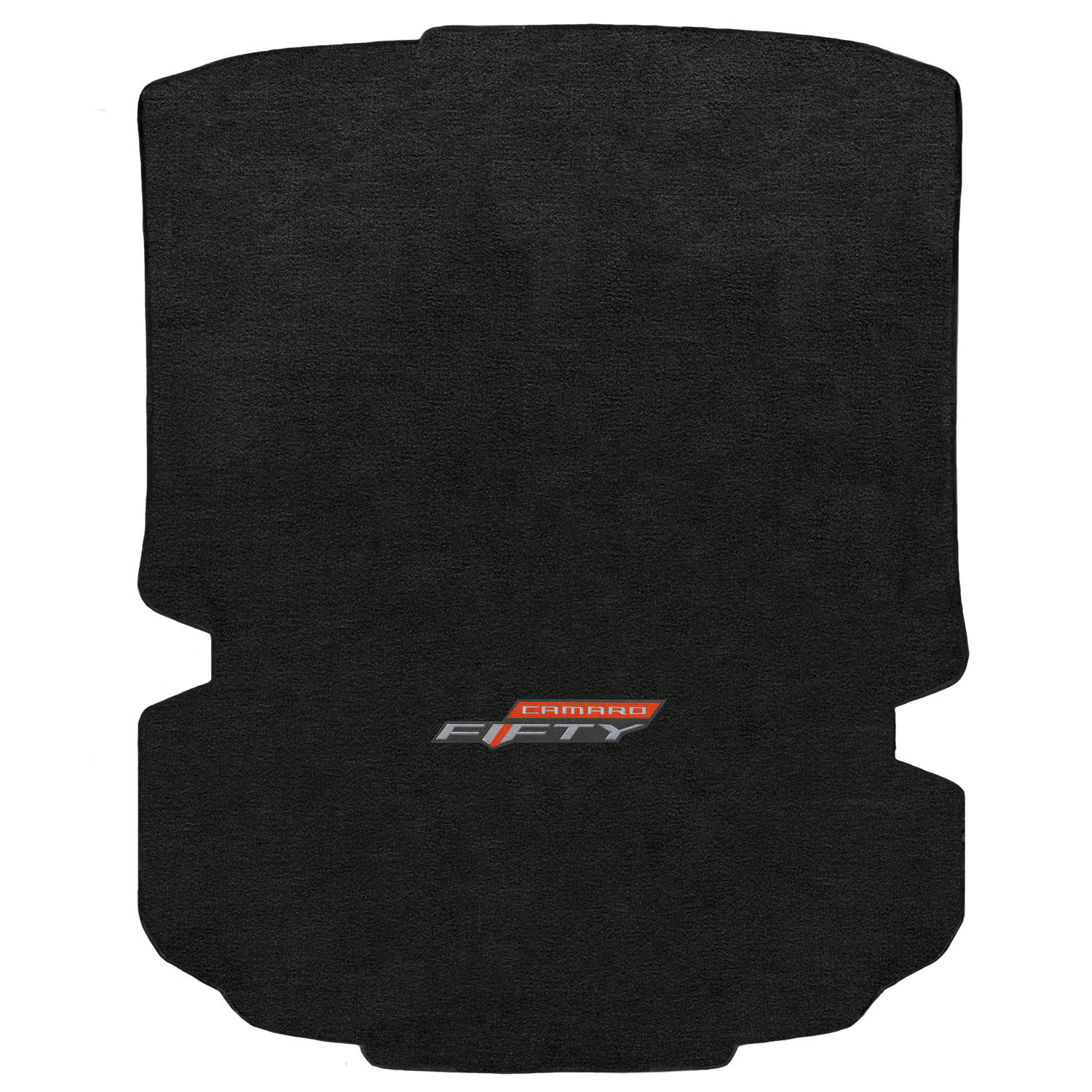 Lloyd Mat's CHEVROLET CAMARO 2017 Front and Rear Floor Mats EBONY ULTIMAT 50TH ANNIVERSARY LOGO - 600281 - (2017)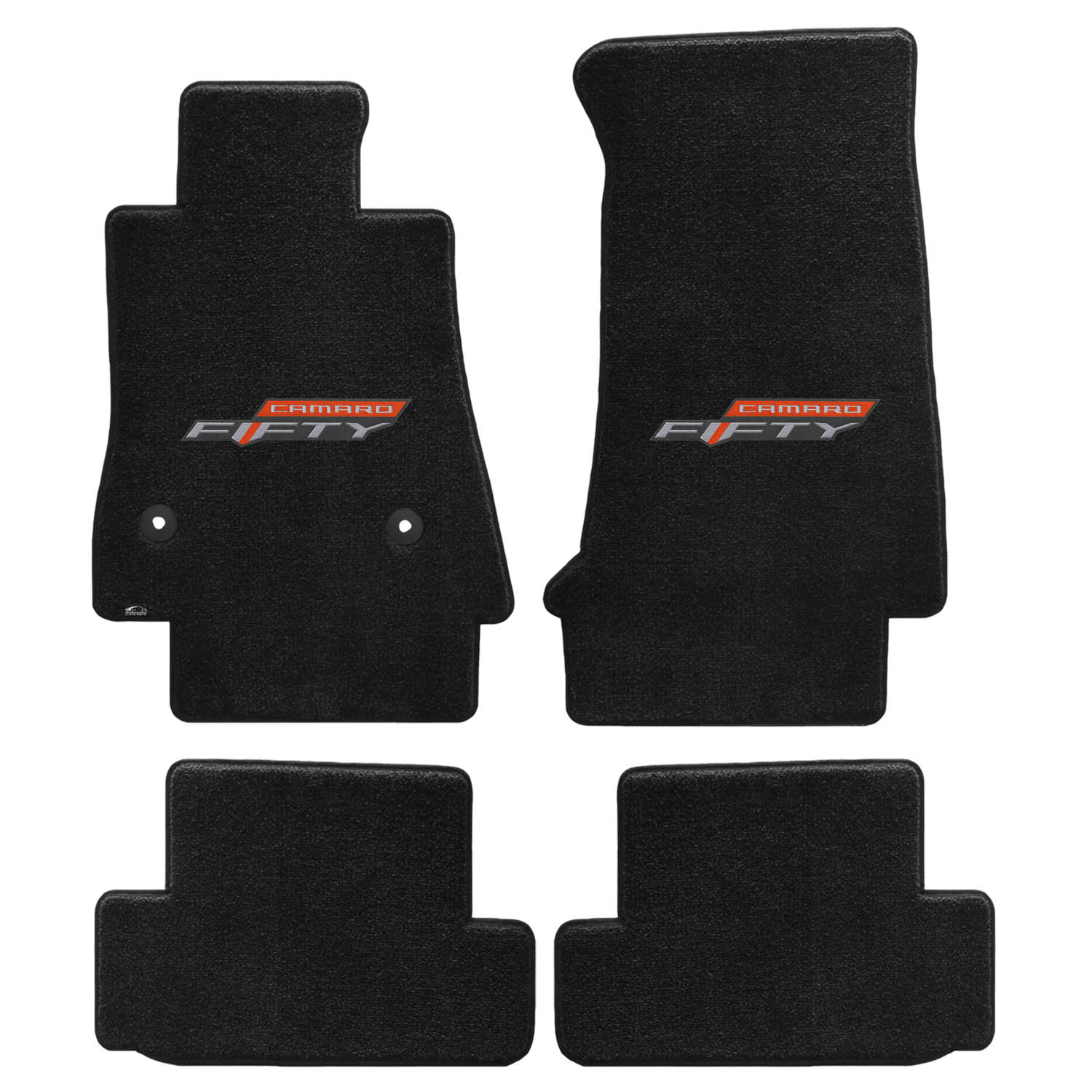 Lloyd Mat's CHEVROLET CAMARO 2017 Front and Rear Floor Mats EBONY VELOURTEX 50TH ANNIVERSARY LOGO - 620188 - (2017)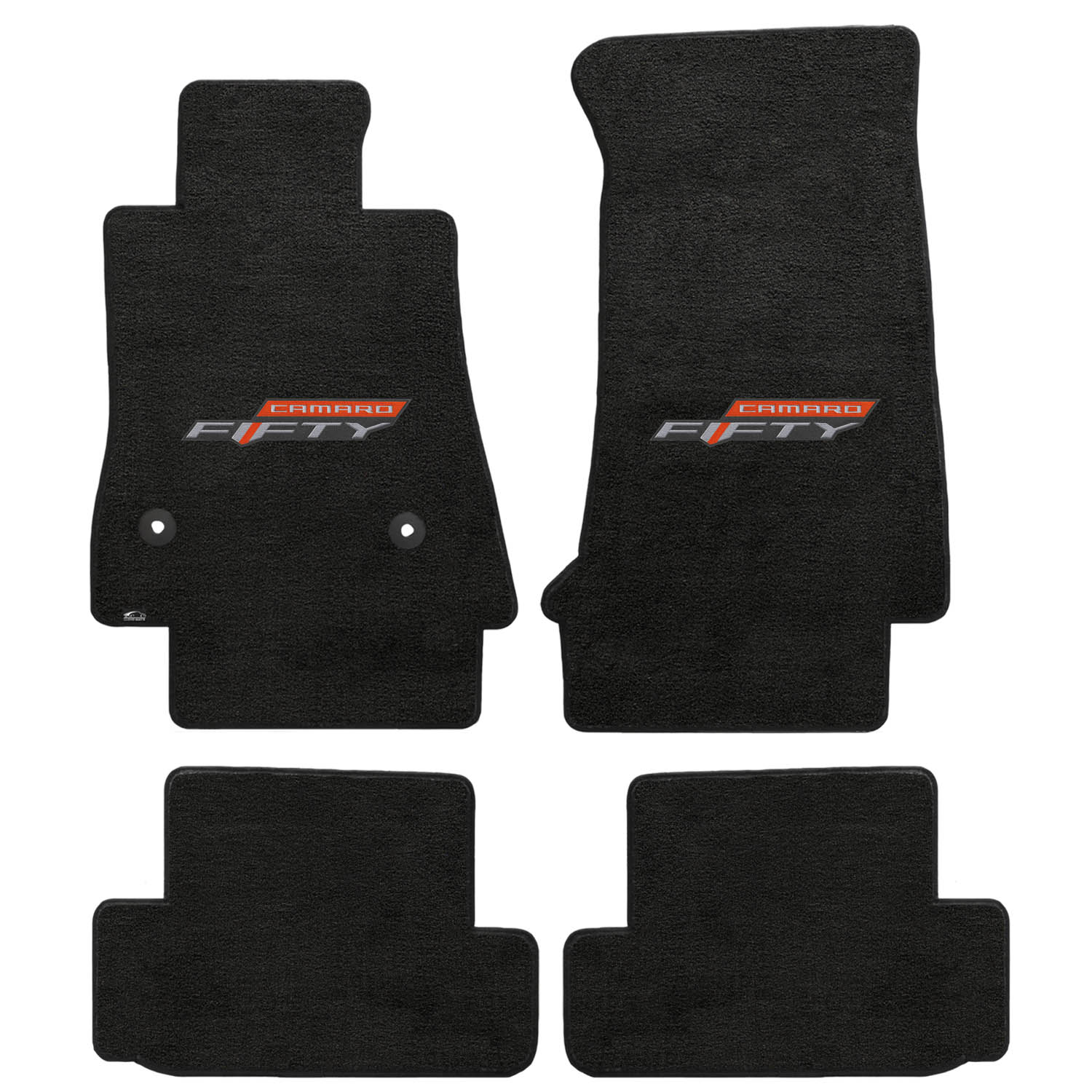 Lloyd Mat's CHEVROLET CAMARO 2017 Front Floor Mats EBONY ULTIMAT 50TH ANNIVERSARY LOGO - 600280 - (2017)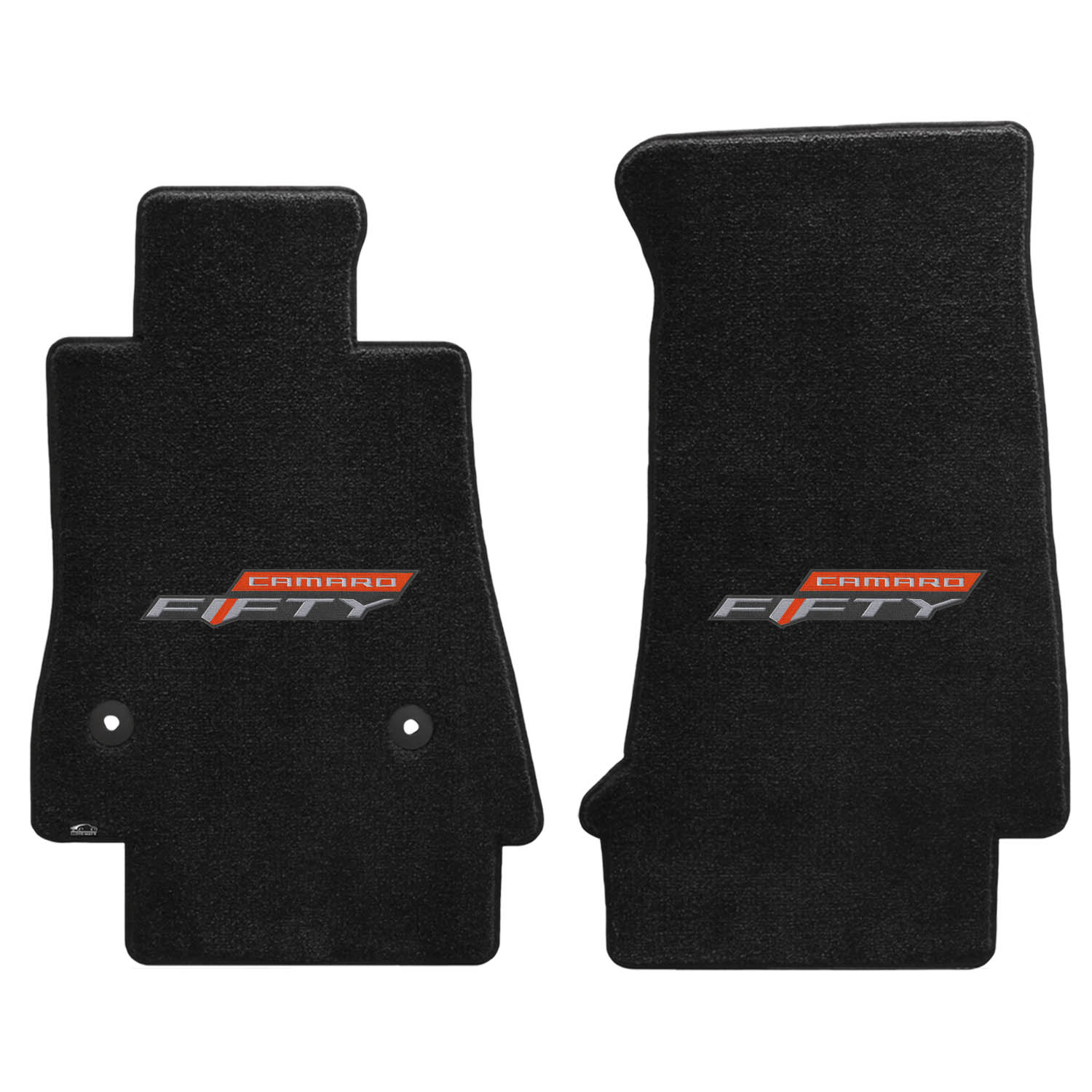 Lloyd Mat's CHEVROLET CAMARO 2017 Front Floor Mats EBONY VELOURTEX 50TH ANNIVERSARY LOGO - 620187 - (2017)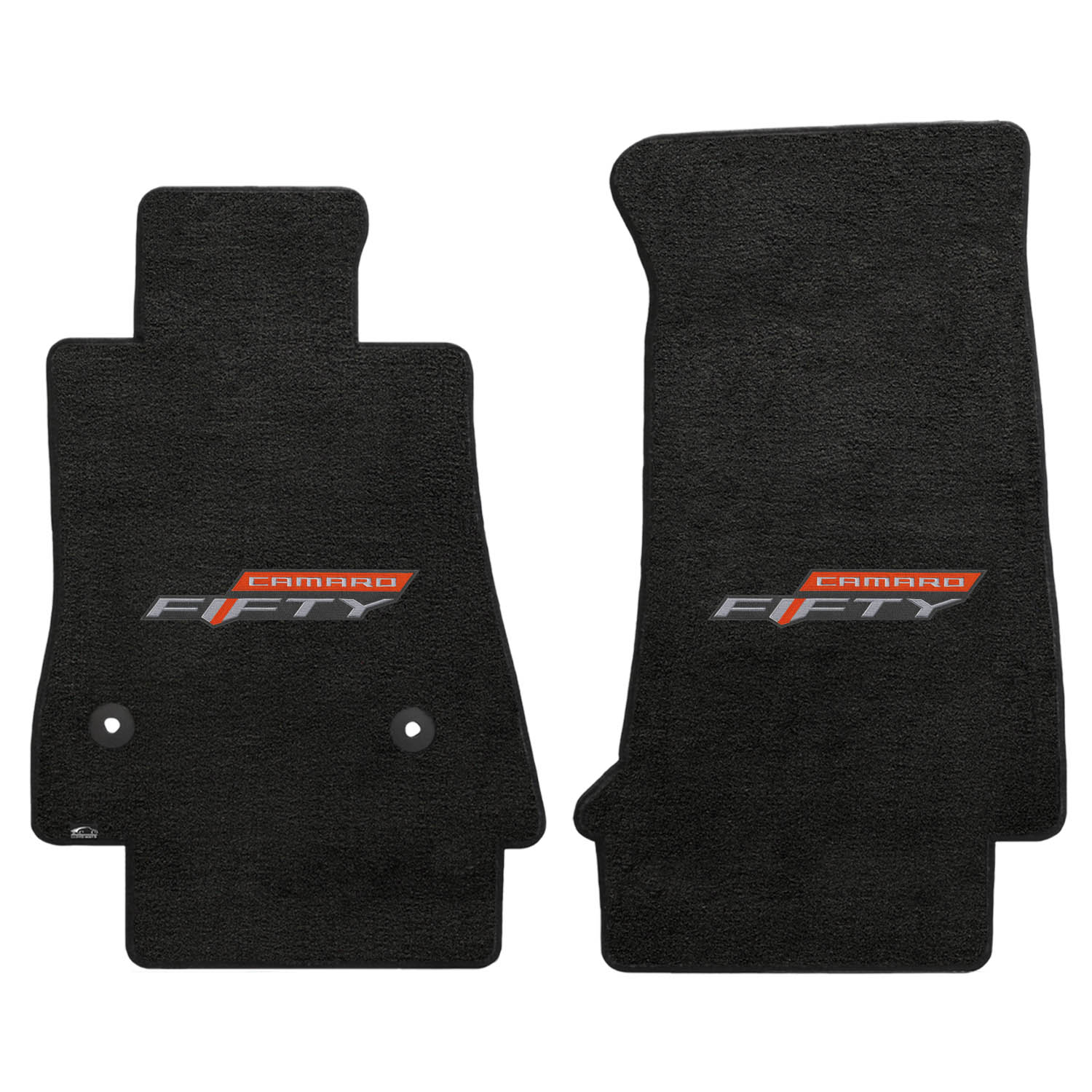 Lloyd Mat's CHEVROLET CAMARO 2016-2017 COUPE Trunk Floor Mats EBONY ULTIMAT BLACK 3D BOWTIE - 600159 - (2017 2016)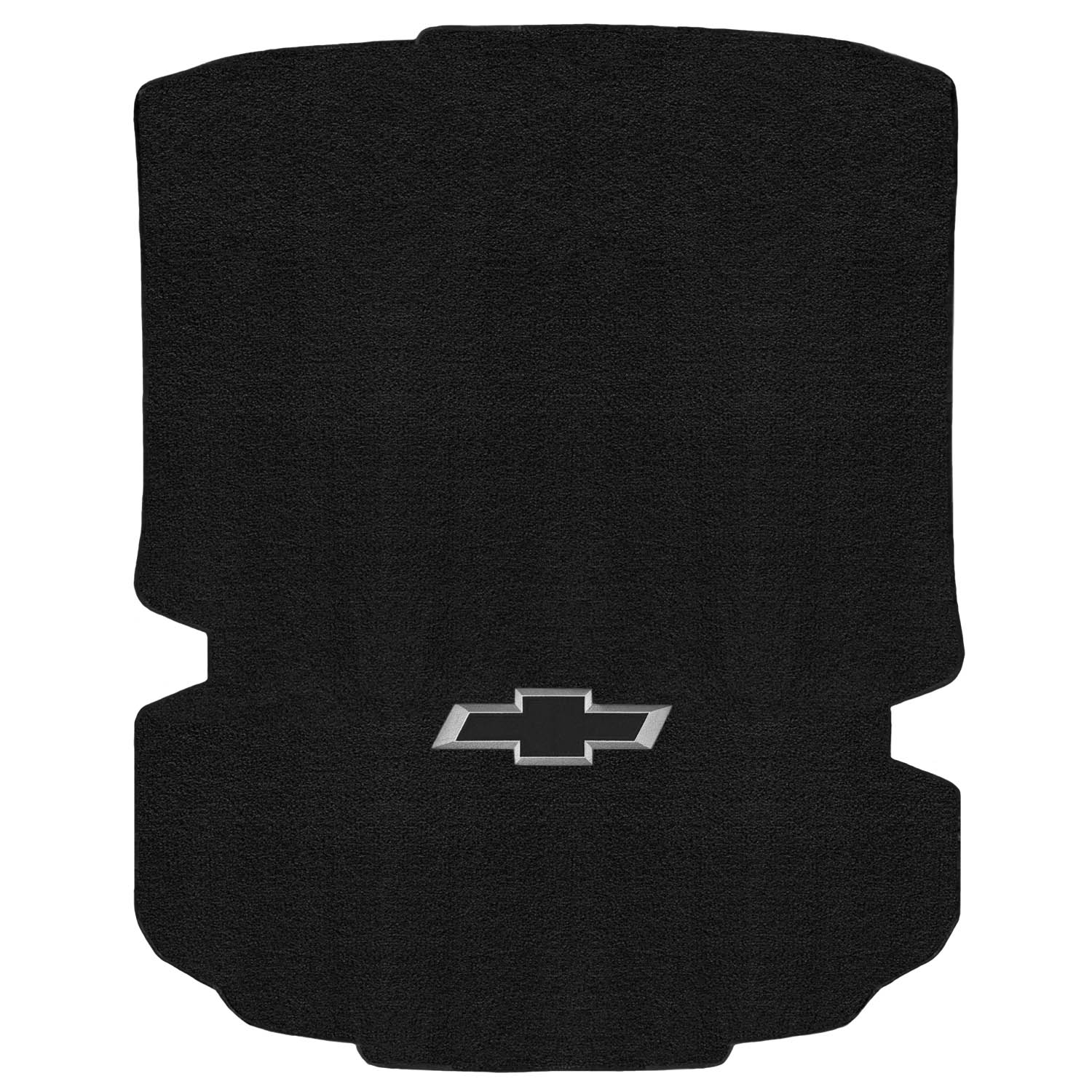 Lloyd Mat's CHEVROLET CAMARO 2016-2017 COUPE Trunk Floor Mats EBONY ULTIMAT CAMARO + RS RED DOUBLE LOGO - 600299 - (2017 2016)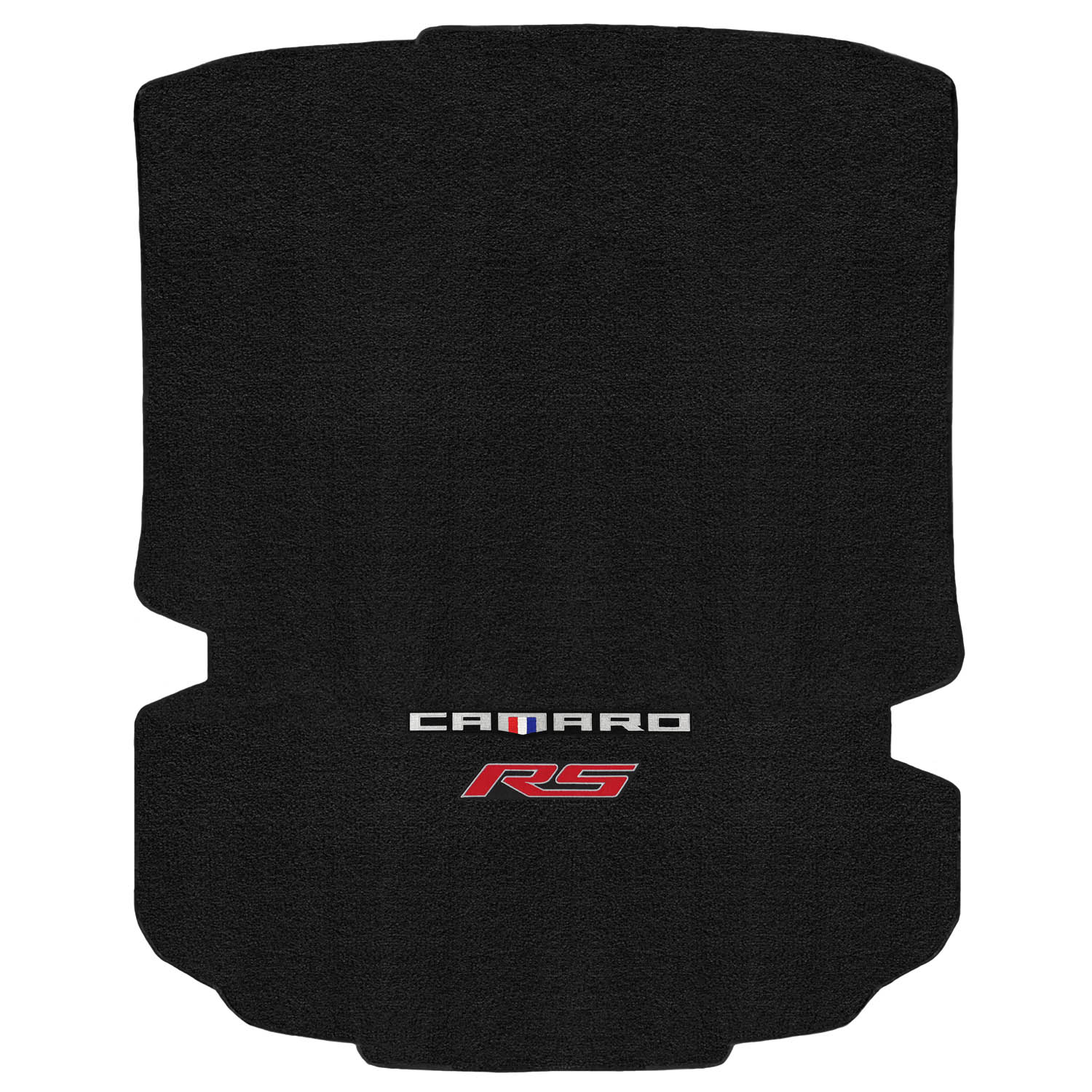 Lloyd Mat's CHEVROLET CAMARO 2016-2017 COUPE Trunk Floor Mats EBONY ULTIMAT CAMARO + SS RED DOUBLE LOGO - 600293 - (2017 2016)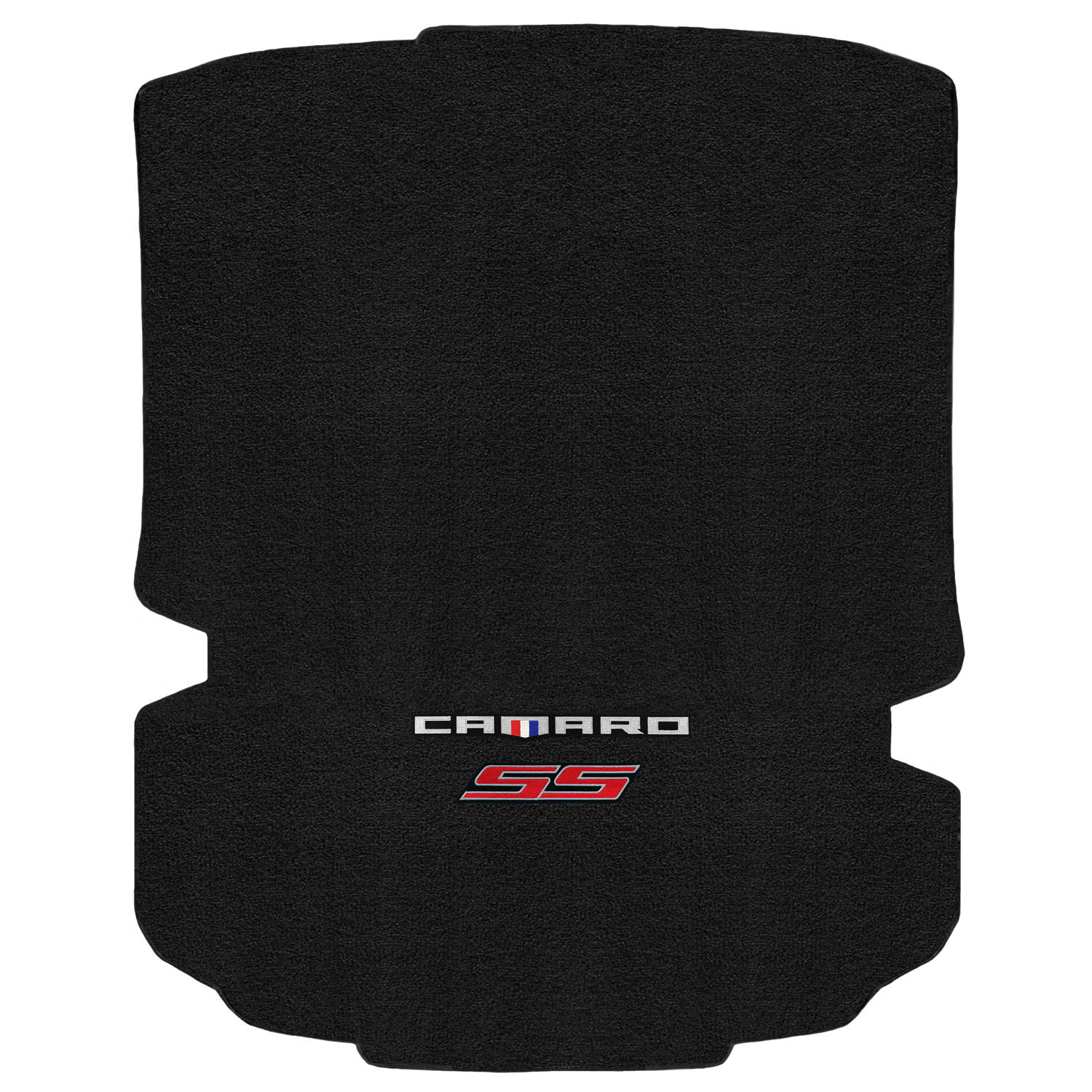 Lloyd Mat's CHEVROLET CAMARO 2016-2017 COUPE Trunk Floor Mats EBONY ULTIMAT CAMARO + SS SILVER DOUBLE LOGO - 600296 - (2017 2016)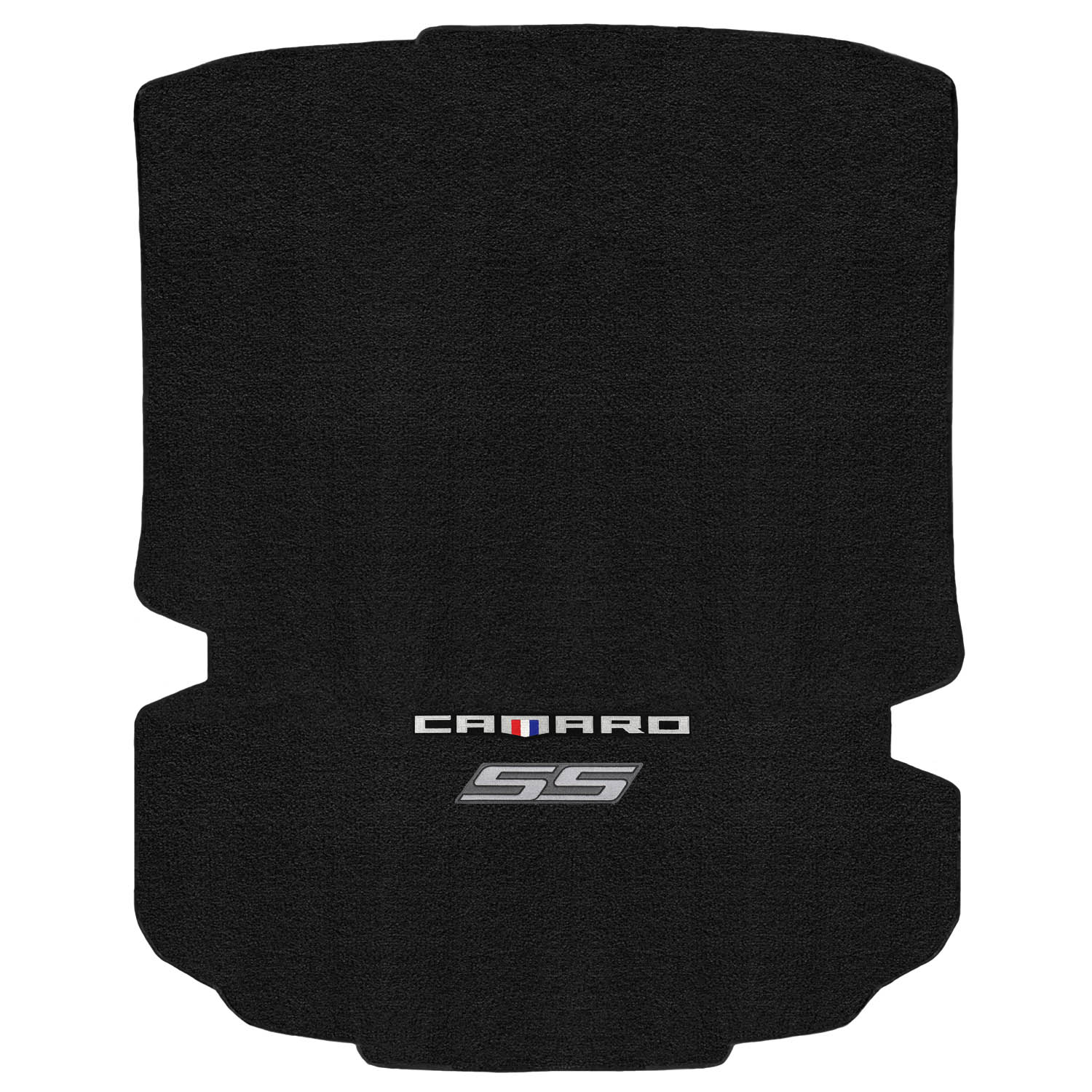 Lloyd Mat's CHEVROLET CAMARO 2016-2017 COUPE Trunk Floor Mats EBONY ULTIMAT CAMARO SHIELD LOGO - 600158 - (2017 2016)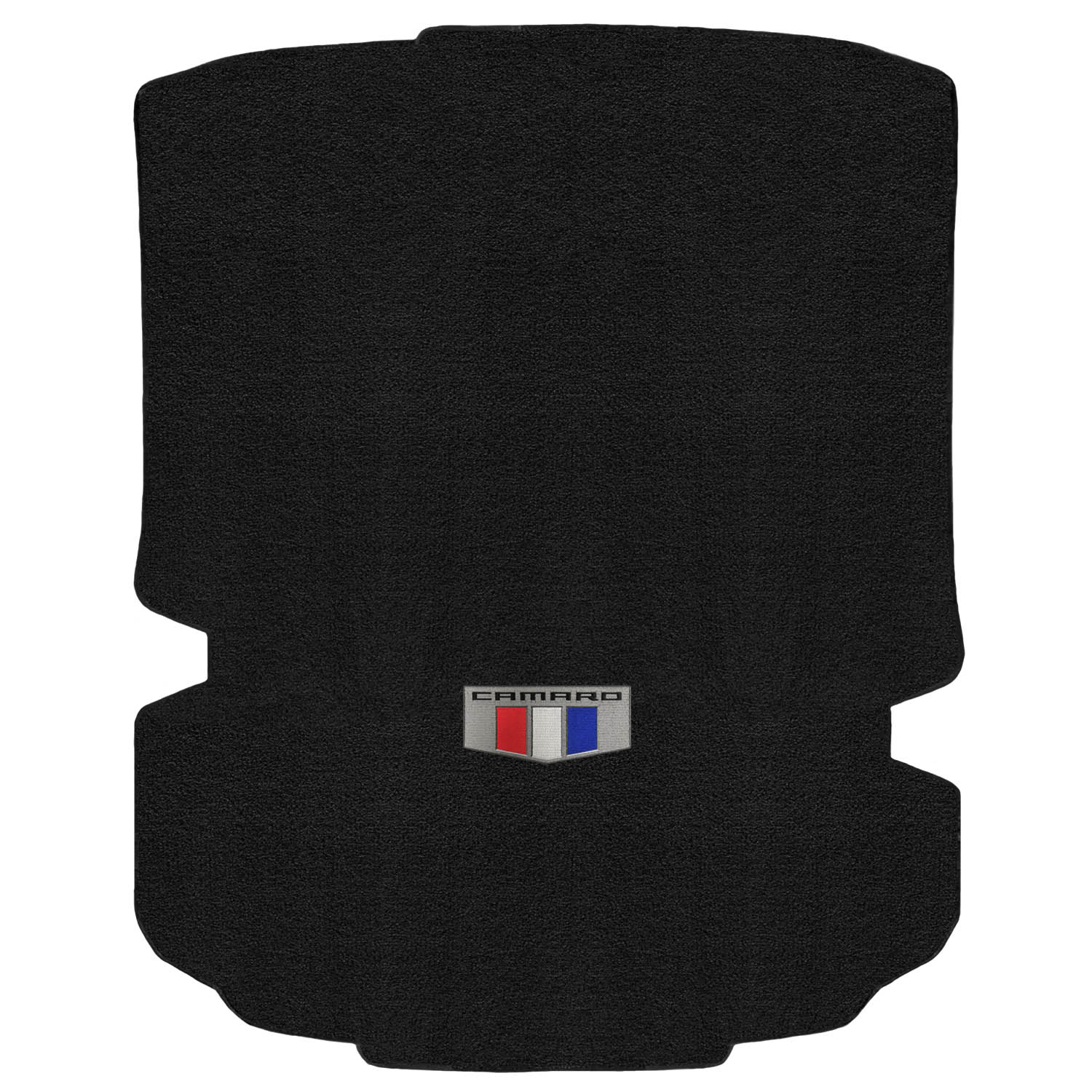 Lloyd Mat's CHEVROLET CAMARO 2016-2017 COUPE Trunk Floor Mats EBONY ULTIMAT CAMARO WORD LOGO - 600157 - (2017 2016)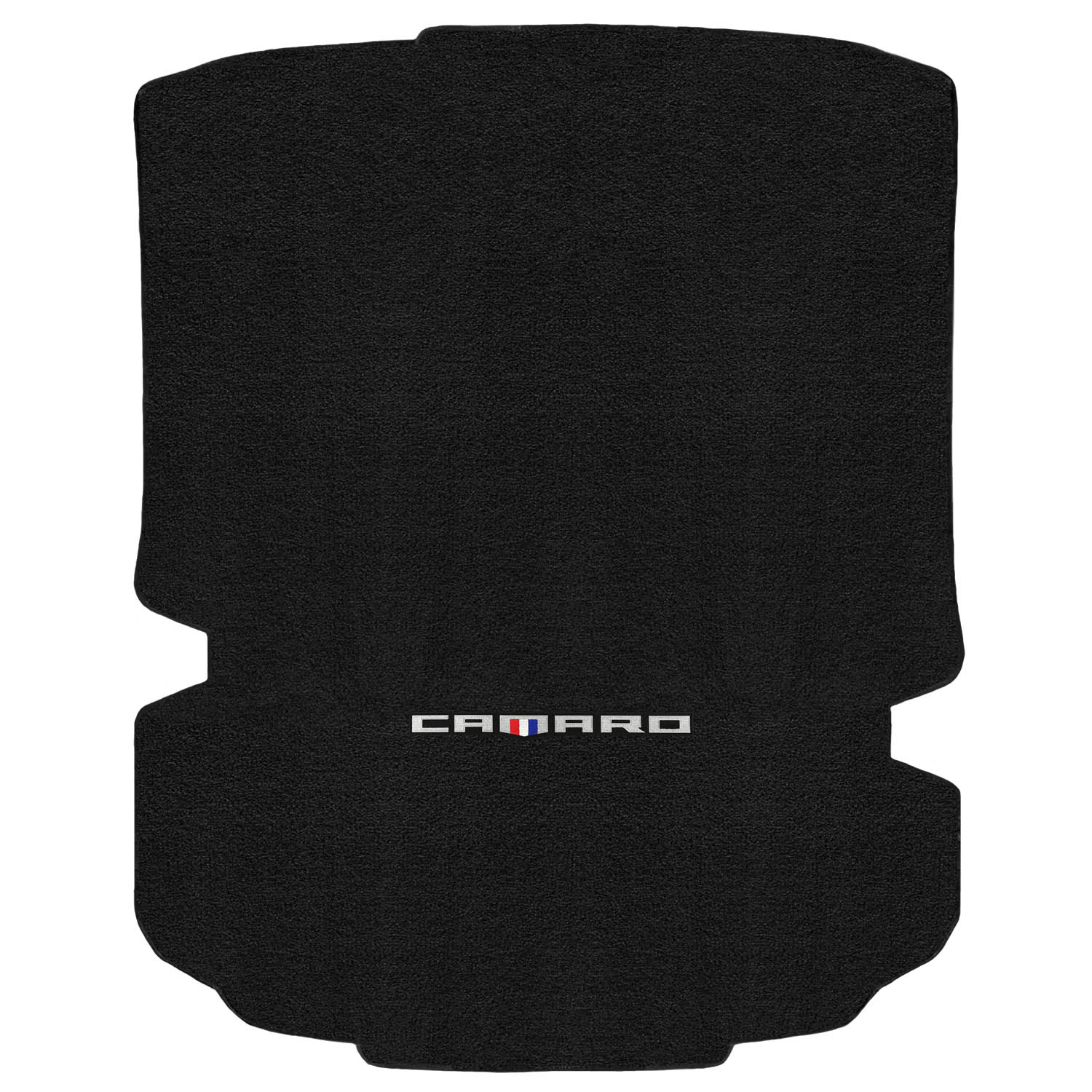 Lloyd Mat's CHEVROLET CAMARO 2016-2017 COUPE Trunk Floor Mats EBONY ULTIMAT SS RED LOGO - 600287 - (2017 2016)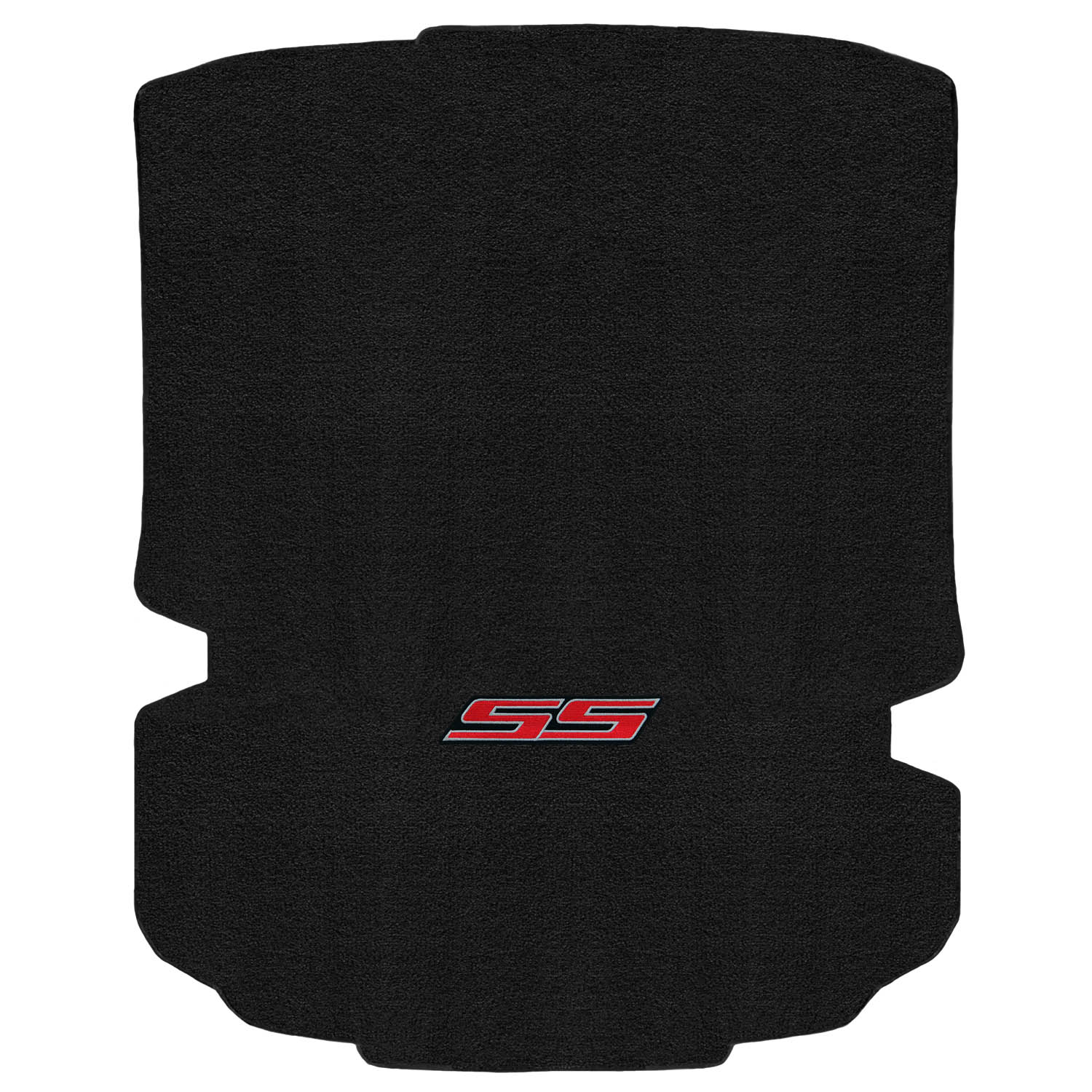 Lloyd Mat's CHEVROLET CAMARO 2016-2017 COUPE Trunk Floor Mats EBONY ULTIMAT SS SILVER LOGO - 600290 - (2017 2016)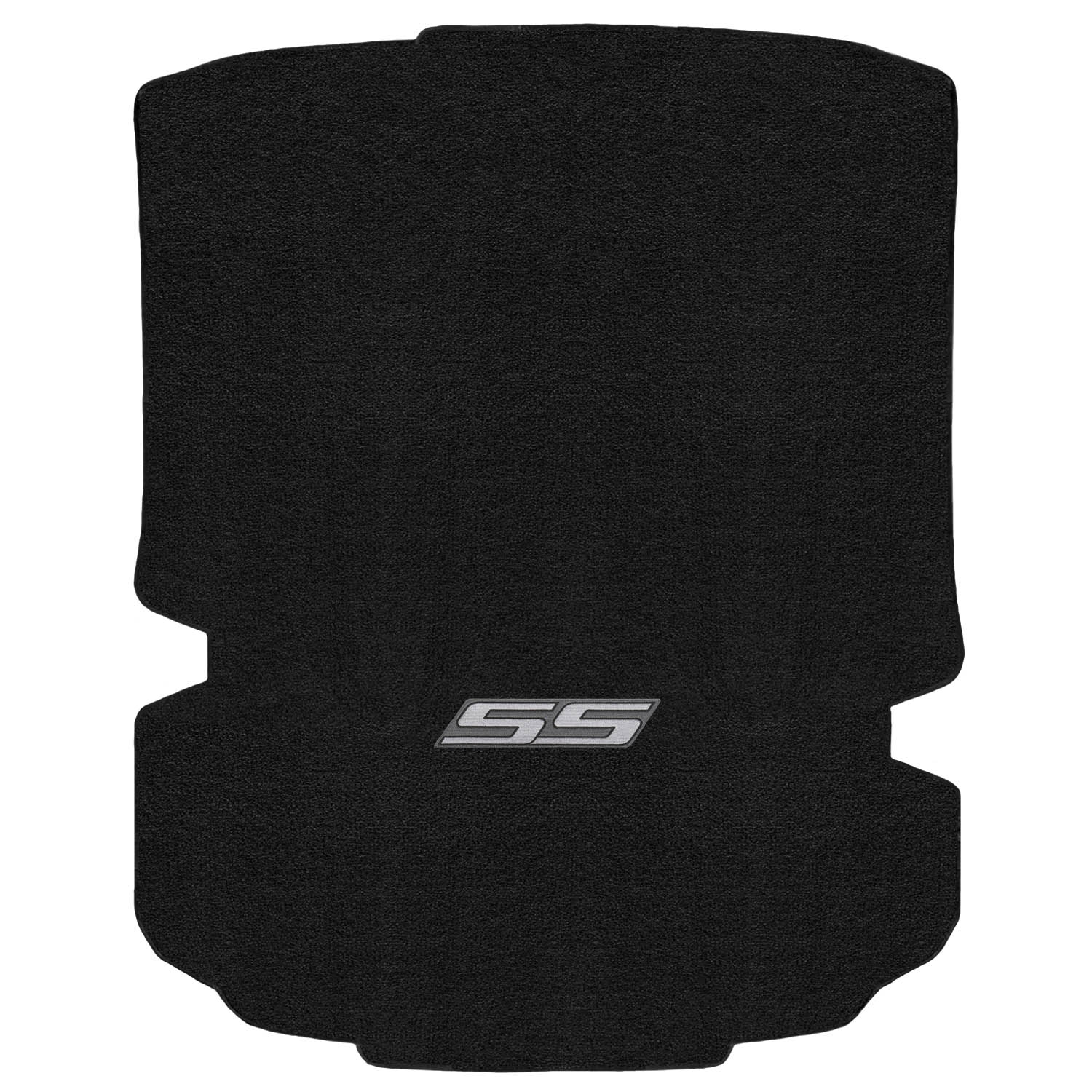 Lloyd Mat's CHEVROLET CAMARO 2016-2017 COUPE Trunk Floor Mats EBONY VELOURTEX BLACK 3D BOWTIE - 620155 - (2017 2016)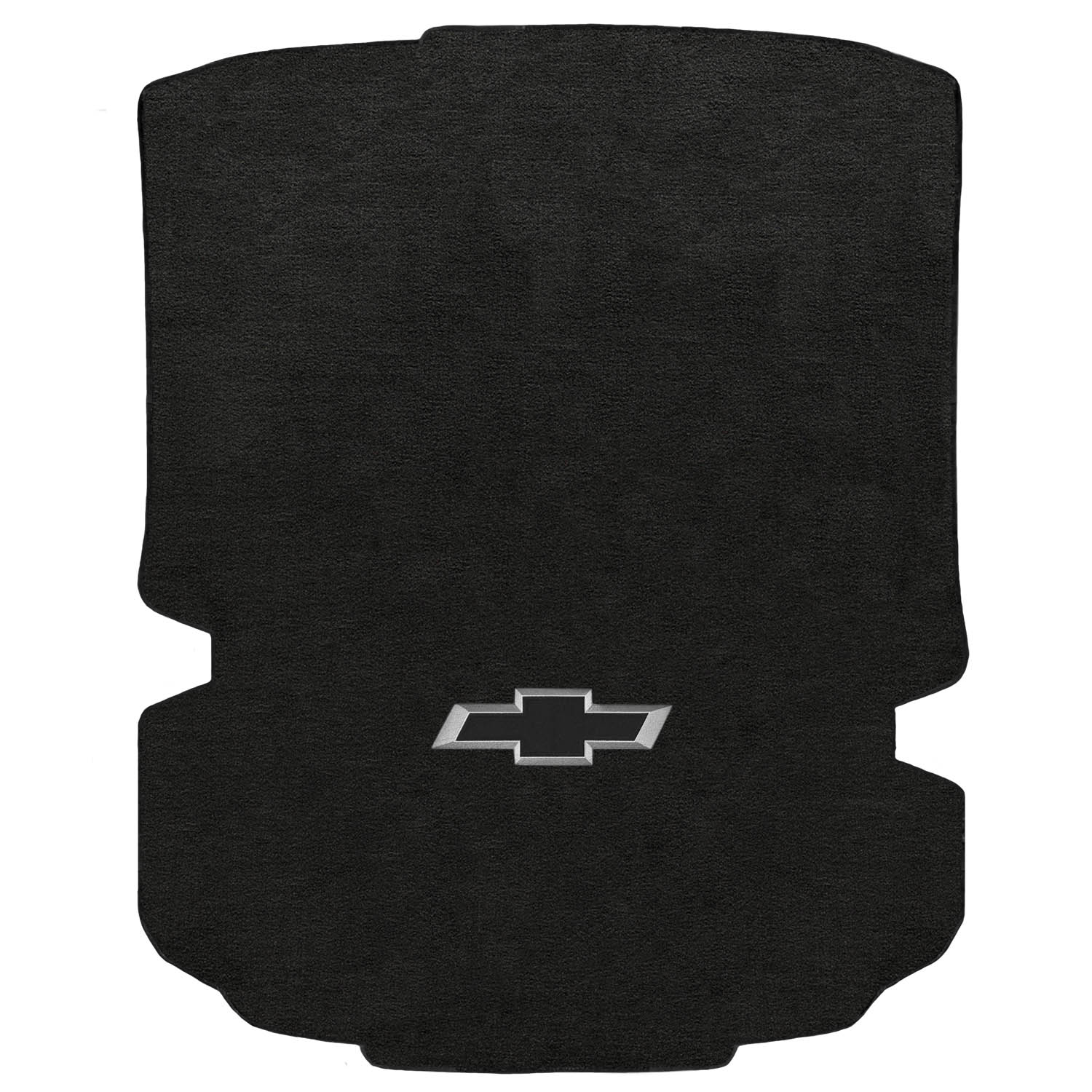 Lloyd Mat's CHEVROLET CAMARO 2016-2017 COUPE Trunk Floor Mats EBONY VELOURTEX CAMARO + RS RED DOUBLE LOGO - 620204 - (2017 2016)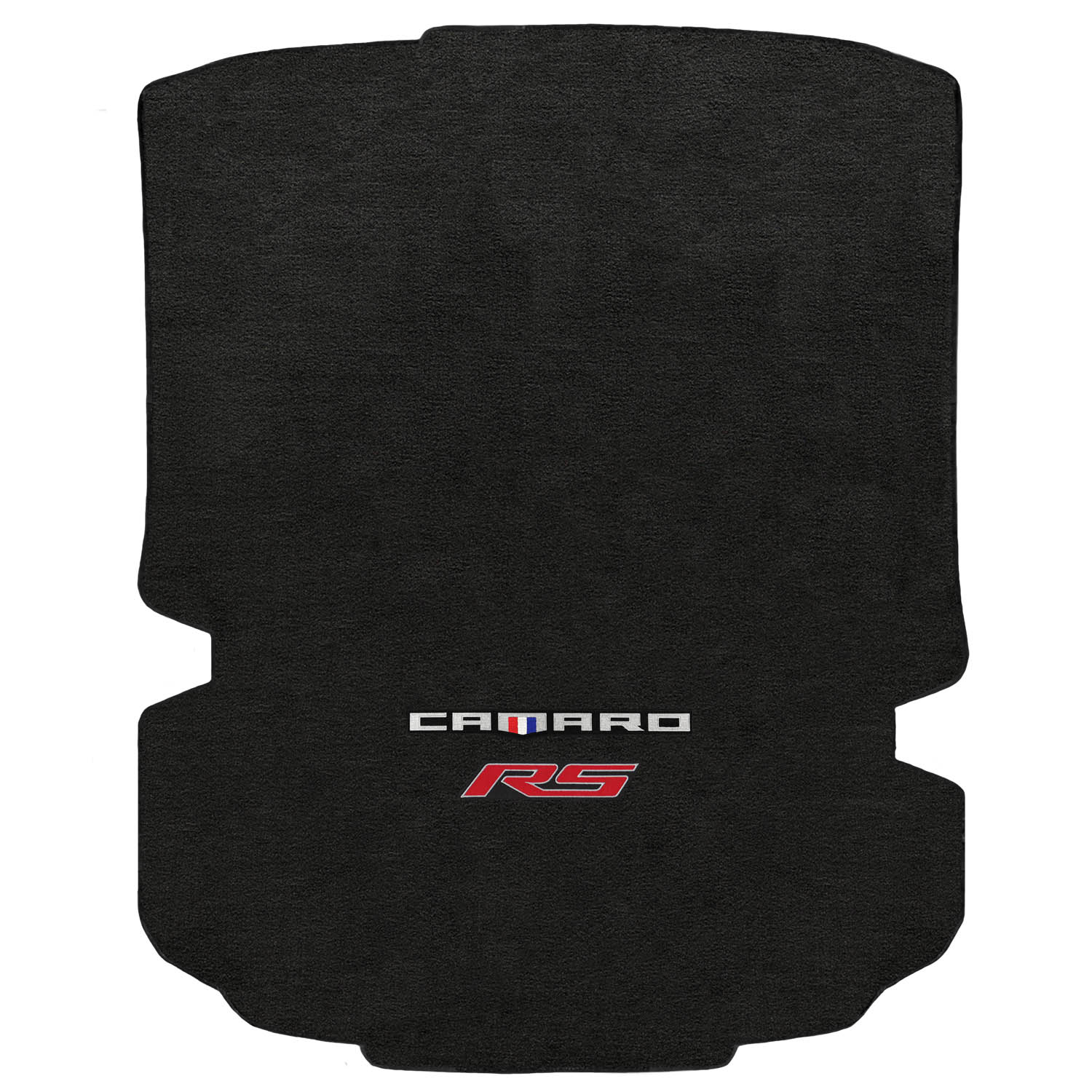 Lloyd Mat's CHEVROLET CAMARO 2016-2017 COUPE Trunk Floor Mats EBONY VELOURTEX CAMARO + SS RED DOUBLE LOGO - 620198 - (2017 2016)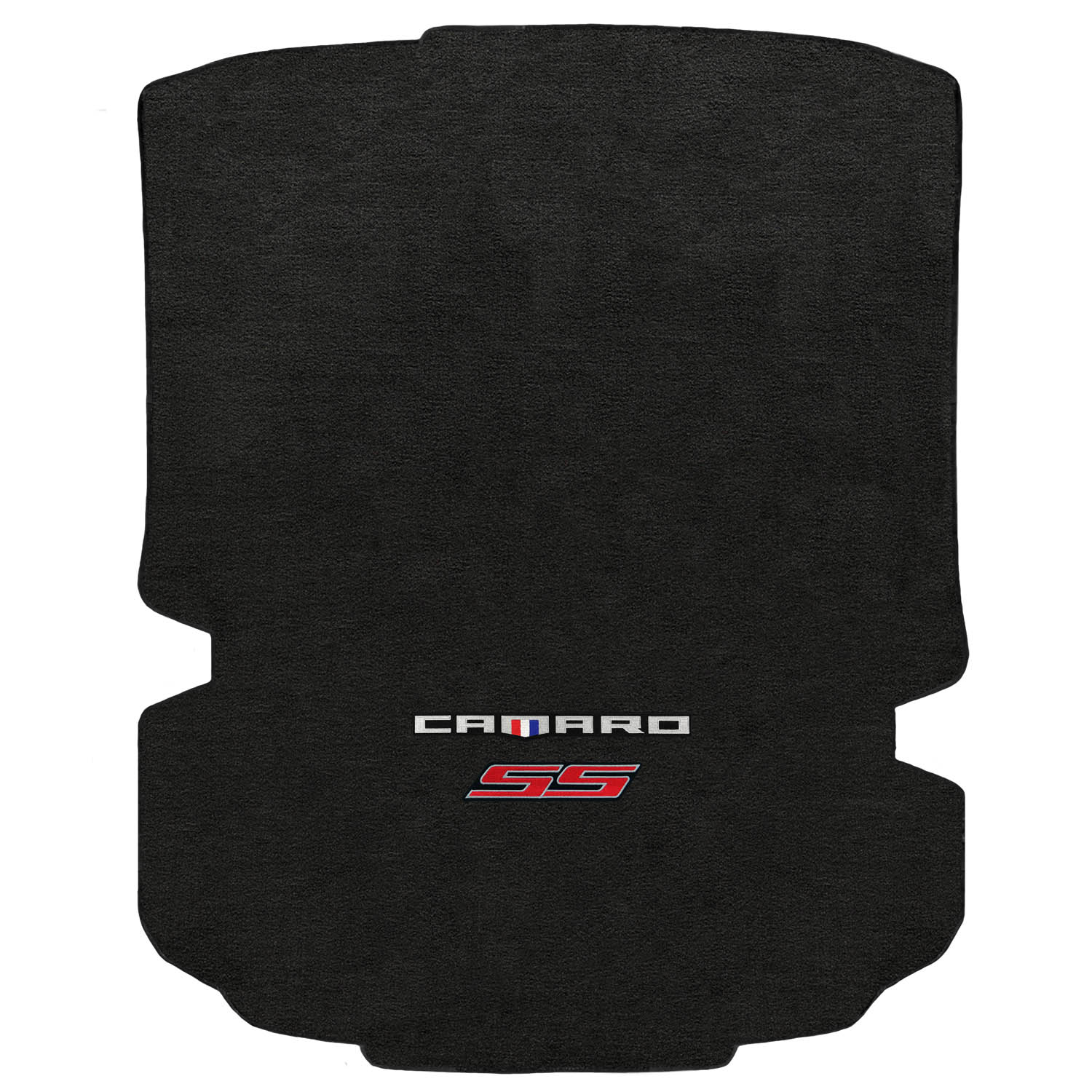 Lloyd Mat's CHEVROLET CAMARO 2016-2017 COUPE Trunk Floor Mats EBONY VELOURTEX CAMARO + SS SILVER DOUBLE LOGO - 620201 - (2017 2016)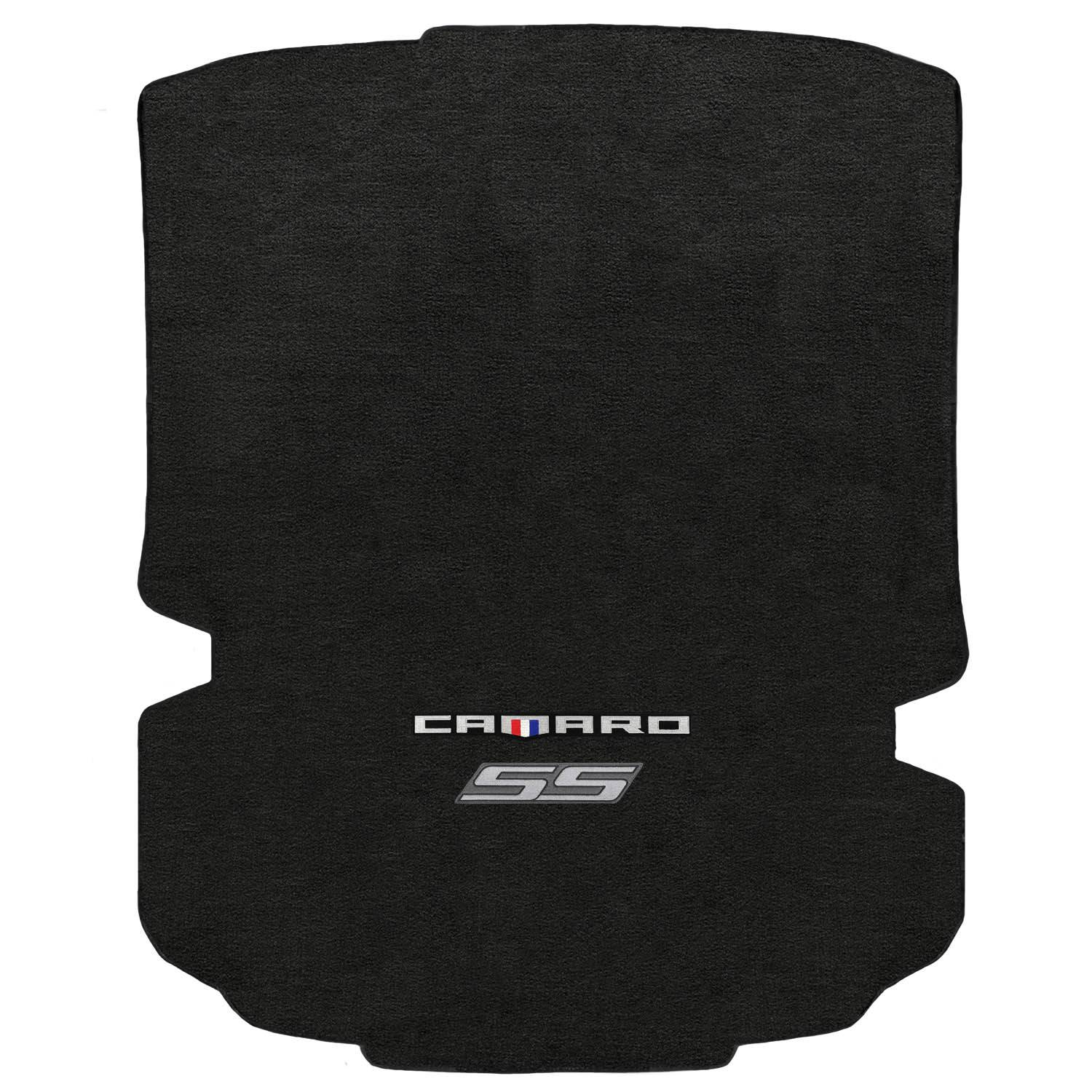 Lloyd Mat's CHEVROLET CAMARO 2016-2017 COUPE Trunk Floor Mats EBONY VELOURTEX CAMARO SHIELD LOGO - 620154 - (2017 2016)

Lloyd Mat's CHEVROLET CAMARO 2016-2017 COUPE Trunk Floor Mats EBONY VELOURTEX CAMARO WORD LOGO - 620153 - (2017 2016)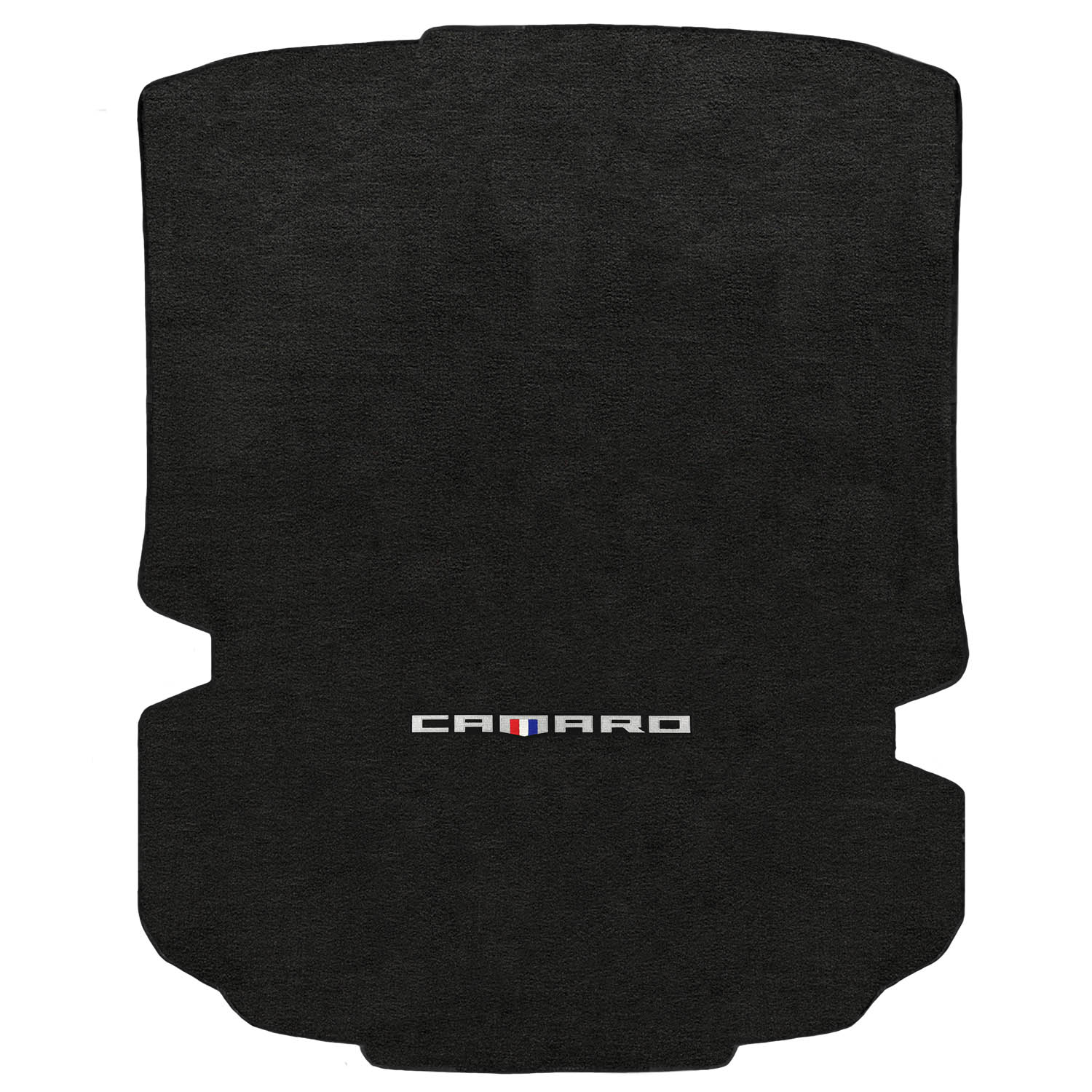 Lloyd Mat's CHEVROLET CAMARO 2016-2017 COUPE Trunk Floor Mats EBONY VELOURTEX SS RED LOGO - 620192 - (2017 2016)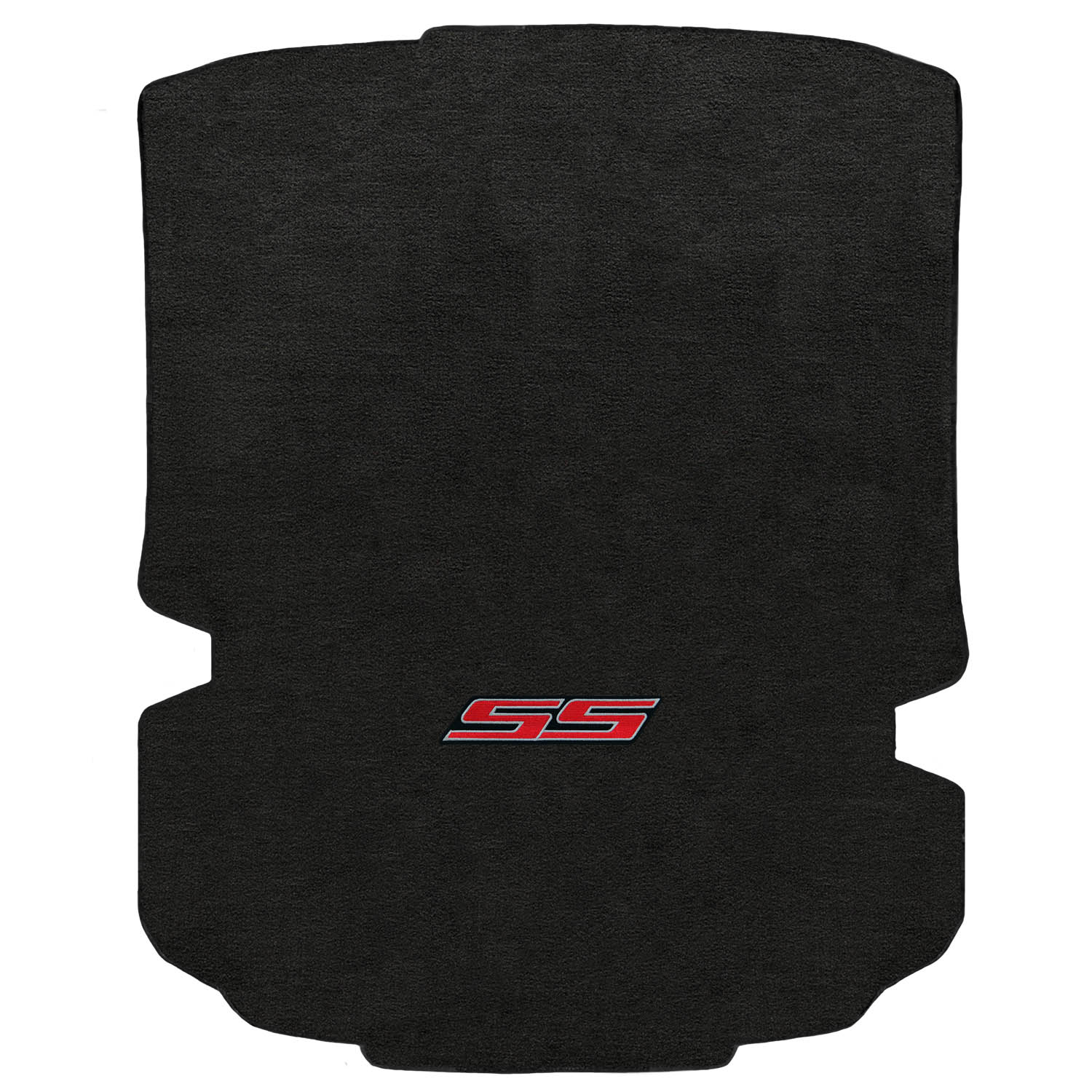 Lloyd Mat's CHEVROLET CAMARO 2016-2017 COUPE Trunk Floor Mats EBONY VELOURTEX SS SILVER LOGO - 620195 - (2017 2016)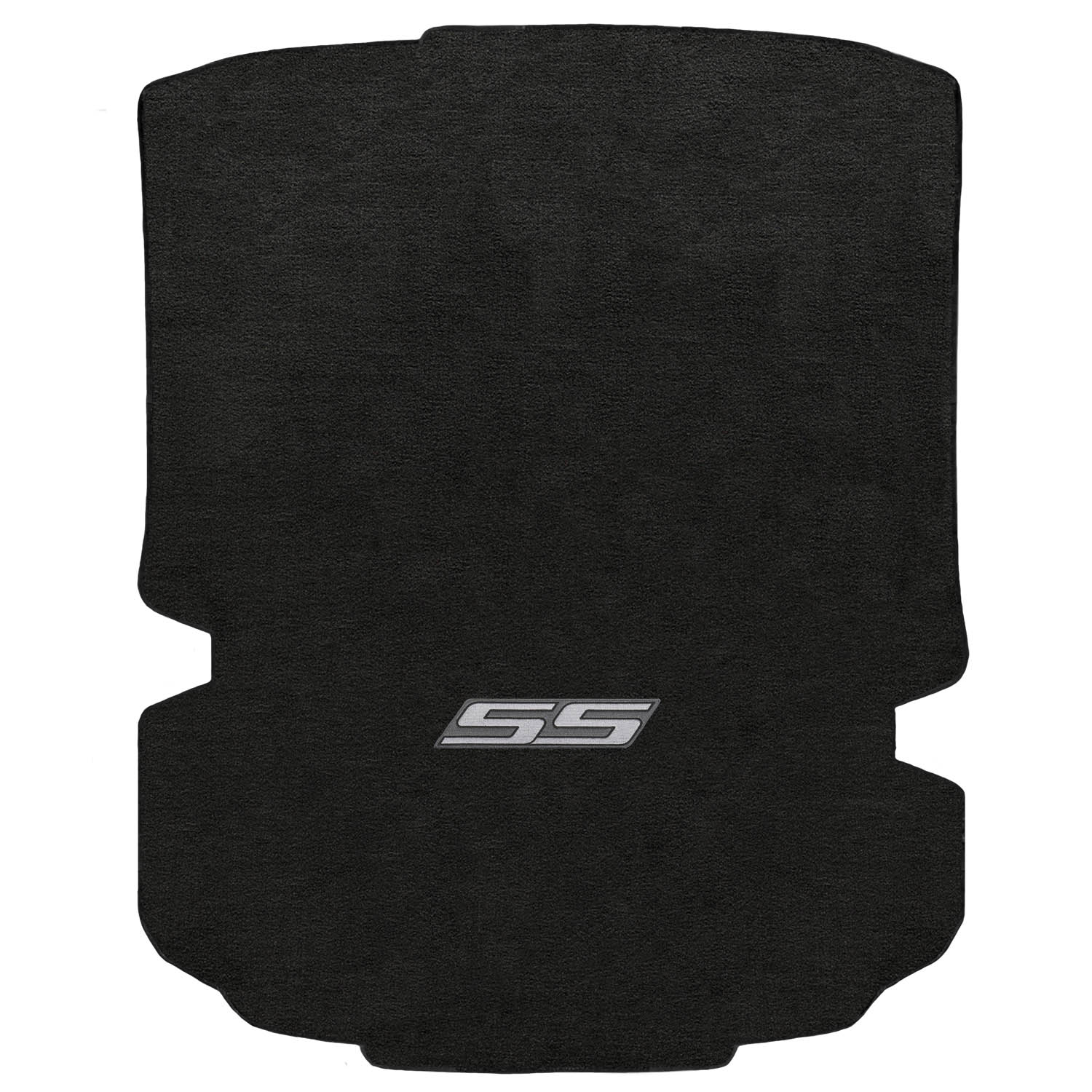 Lloyd Mat's CHEVROLET CAMARO 2016-2017 Front and Rear Floor Mats EBONY ULTIMAT BLACK 3D BOWTIE - 600156 - (2017 2016)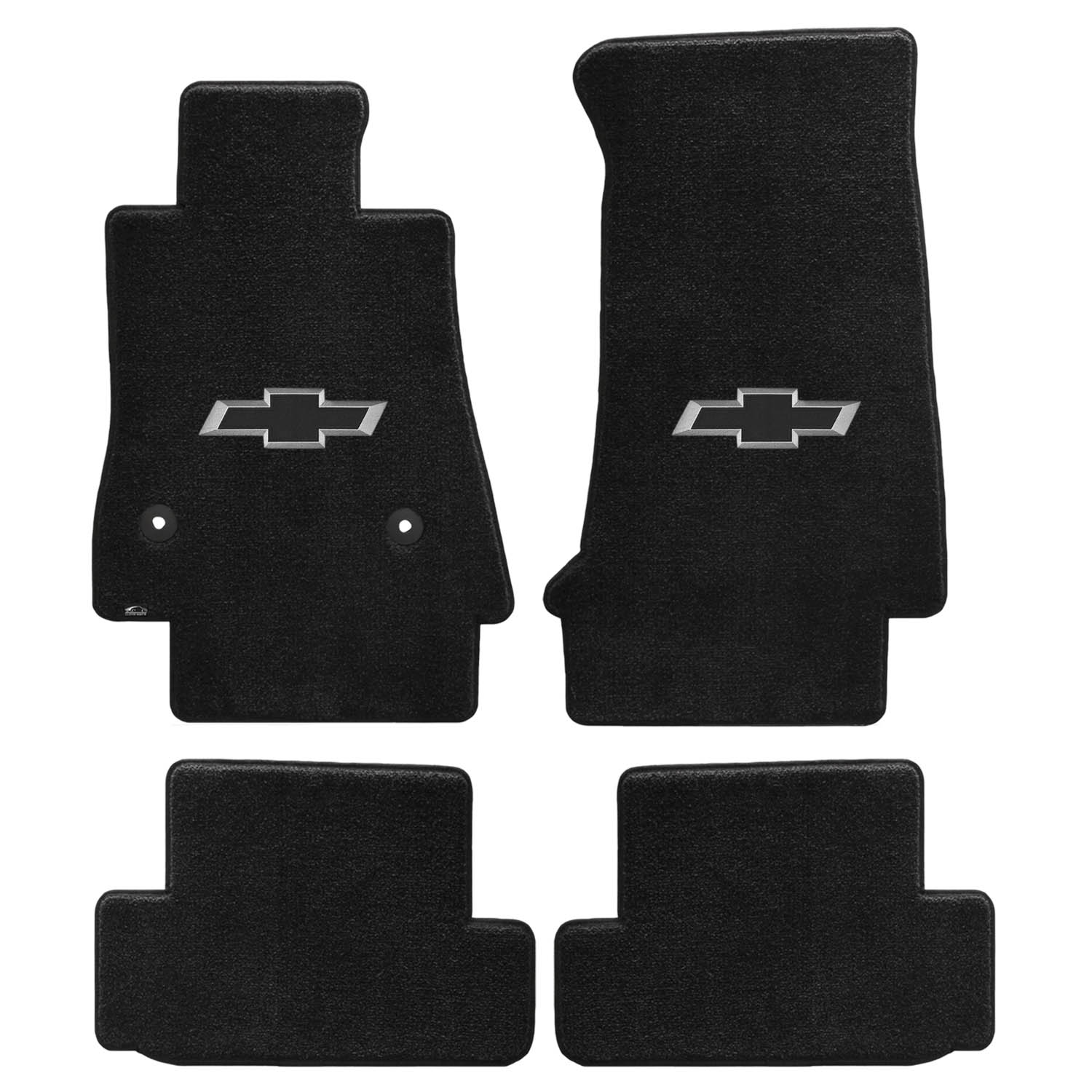 Lloyd Mat's CHEVROLET CAMARO 2016-2017 Front and Rear Floor Mats EBONY ULTIMAT CAMARO + RS RED DOUBLE LOGO - 600298 - (2017 2016)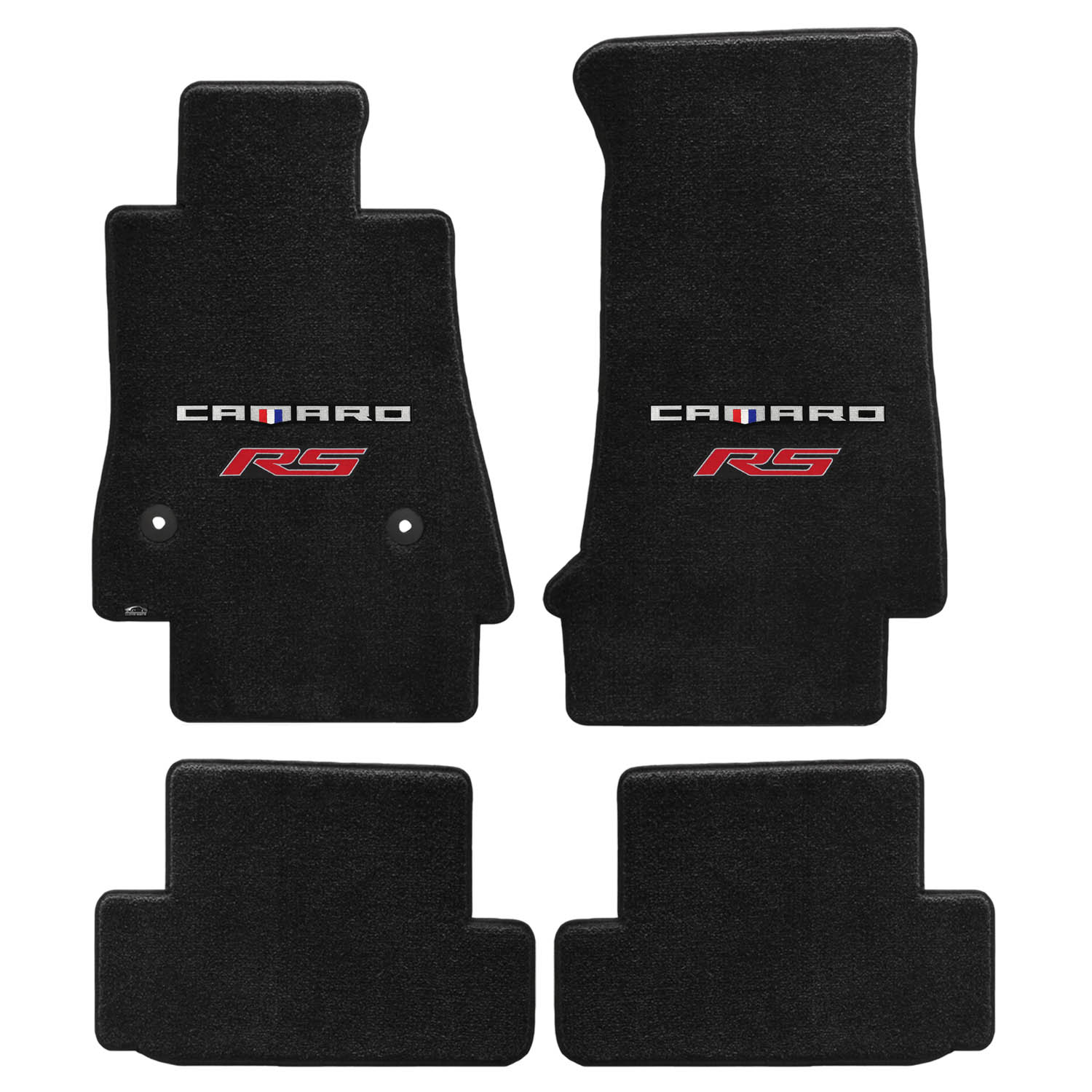 Lloyd Mat's CHEVROLET CAMARO 2016-2017 Front and Rear Floor Mats EBONY ULTIMAT CAMARO + SS RED DOUBLE LOGO - 600292 - (2017 2016)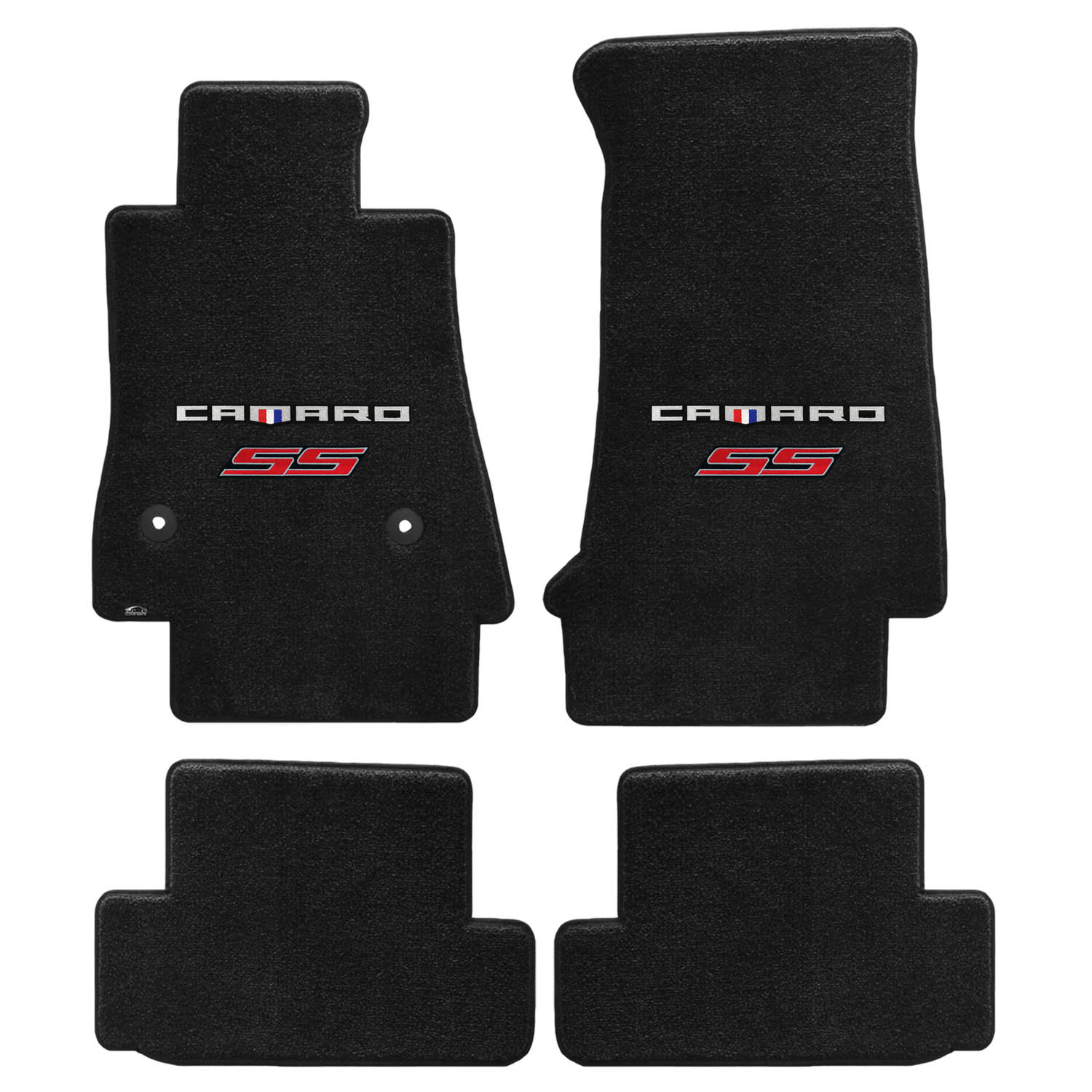 Lloyd Mat's CHEVROLET CAMARO 2016-2017 Front and Rear Floor Mats EBONY ULTIMAT CAMARO + SS SILVER DOUBLE LOGO - 600295 - (2017 2016)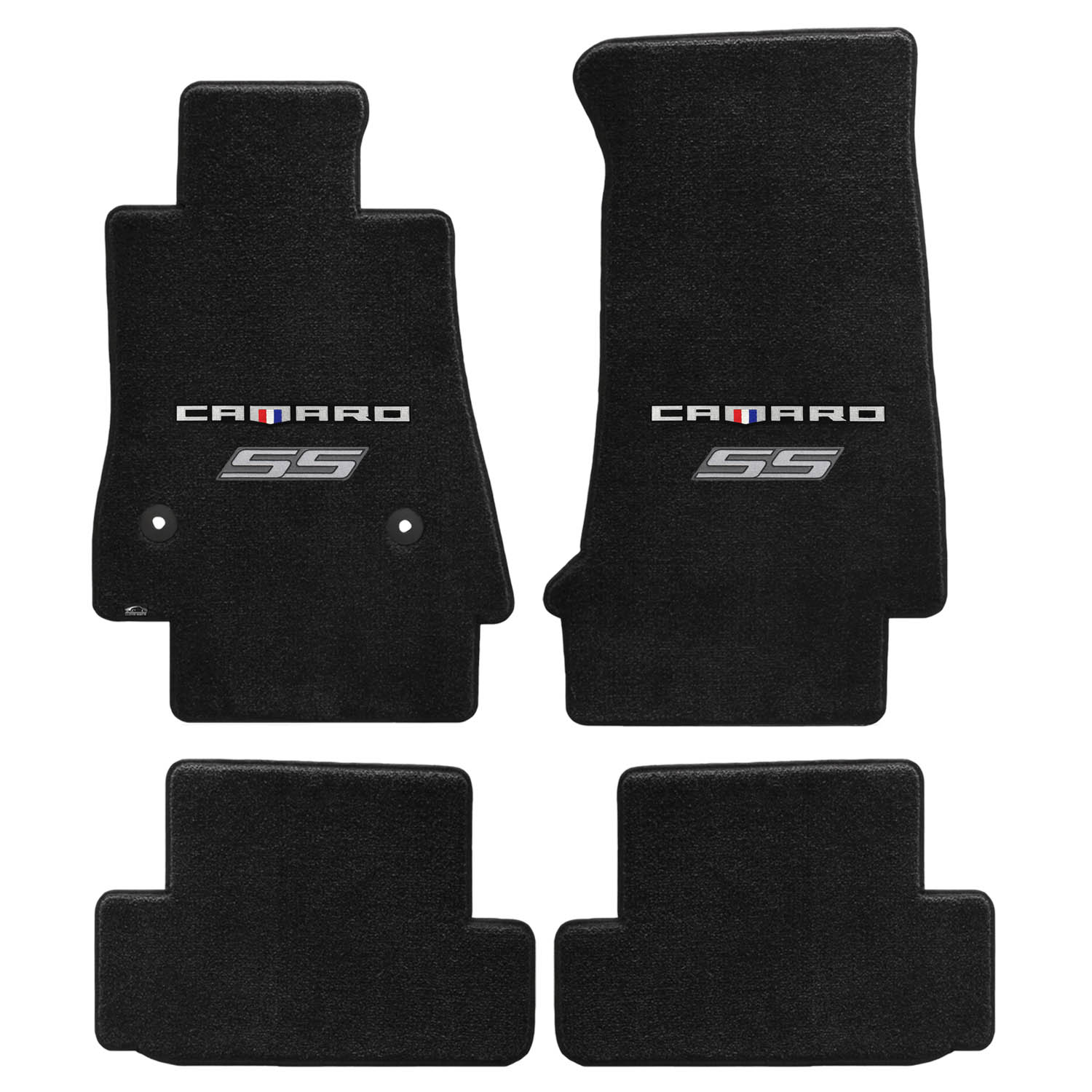 Lloyd Mat's CHEVROLET CAMARO 2016-2017 Front and Rear Floor Mats EBONY ULTIMAT CAMARO SHIELD LOGO - 600155 - (2017 2016)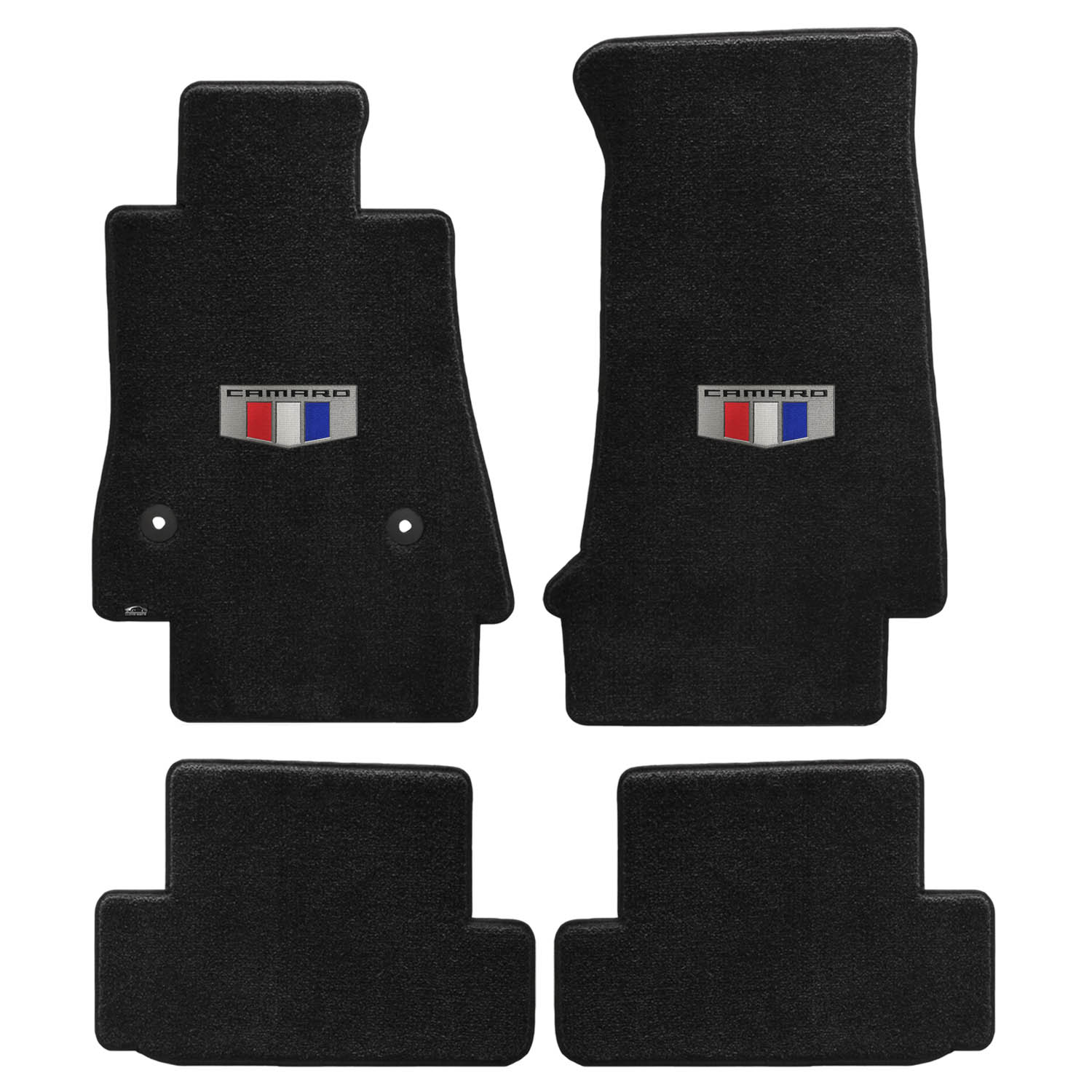 Lloyd Mat's CHEVROLET CAMARO 2016-2017 Front and Rear Floor Mats EBONY ULTIMAT CAMARO WORD LOGO - 600154 - (2017 2016)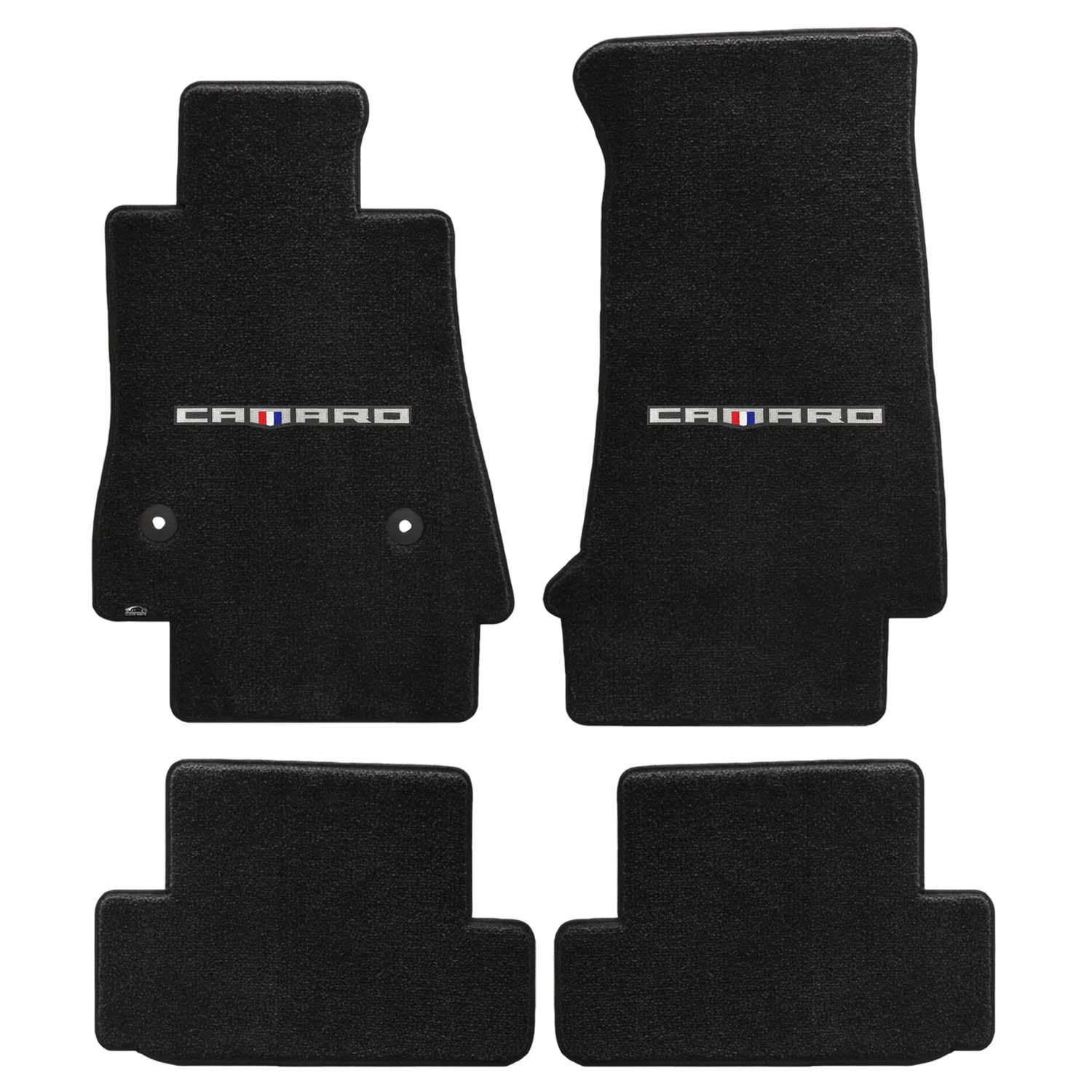 Lloyd Mat's CHEVROLET CAMARO 2016-2017 Front and Rear Floor Mats EBONY ULTIMAT SS RED LOGO - 600286 - (2017 2016)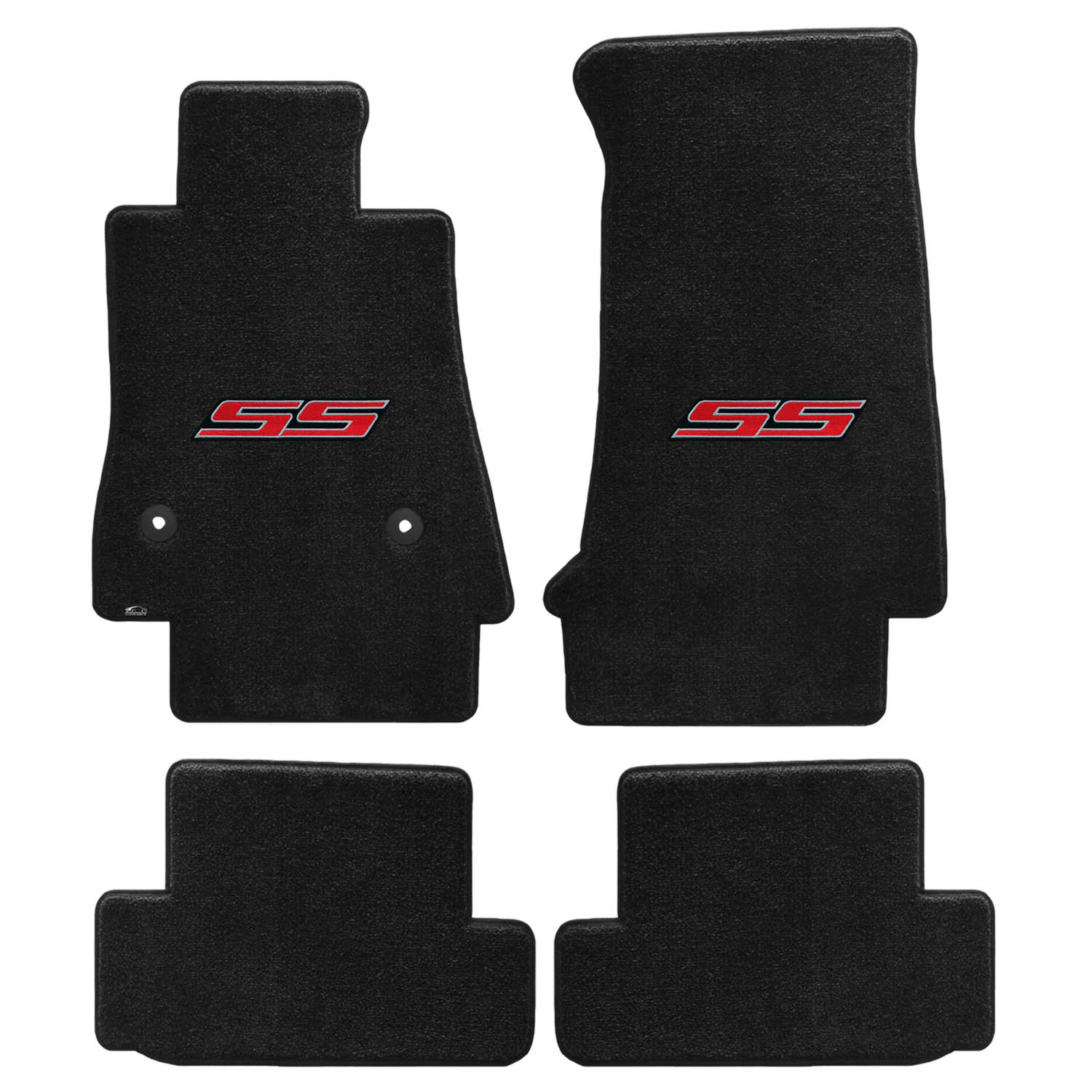 Lloyd Mat's CHEVROLET CAMARO 2016-2017 Front and Rear Floor Mats EBONY ULTIMAT SS SILVER LOGO - 600289 - (2017 2016)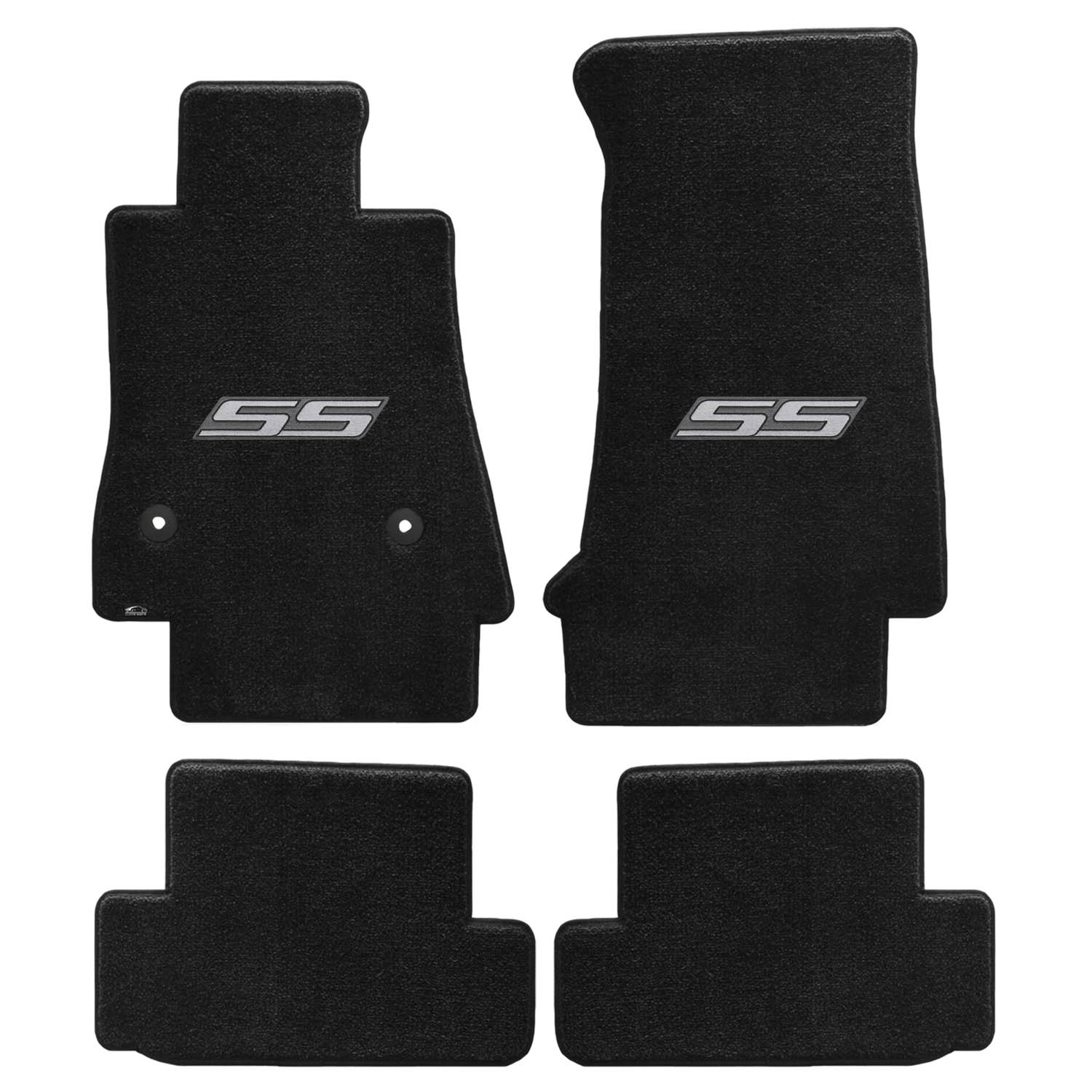 Lloyd Mat's CHEVROLET CAMARO 2016-2017 Front and Rear Floor Mats EBONY VELOURTEX BLACK 3D BOWTIE - 620152 - (2017 2016)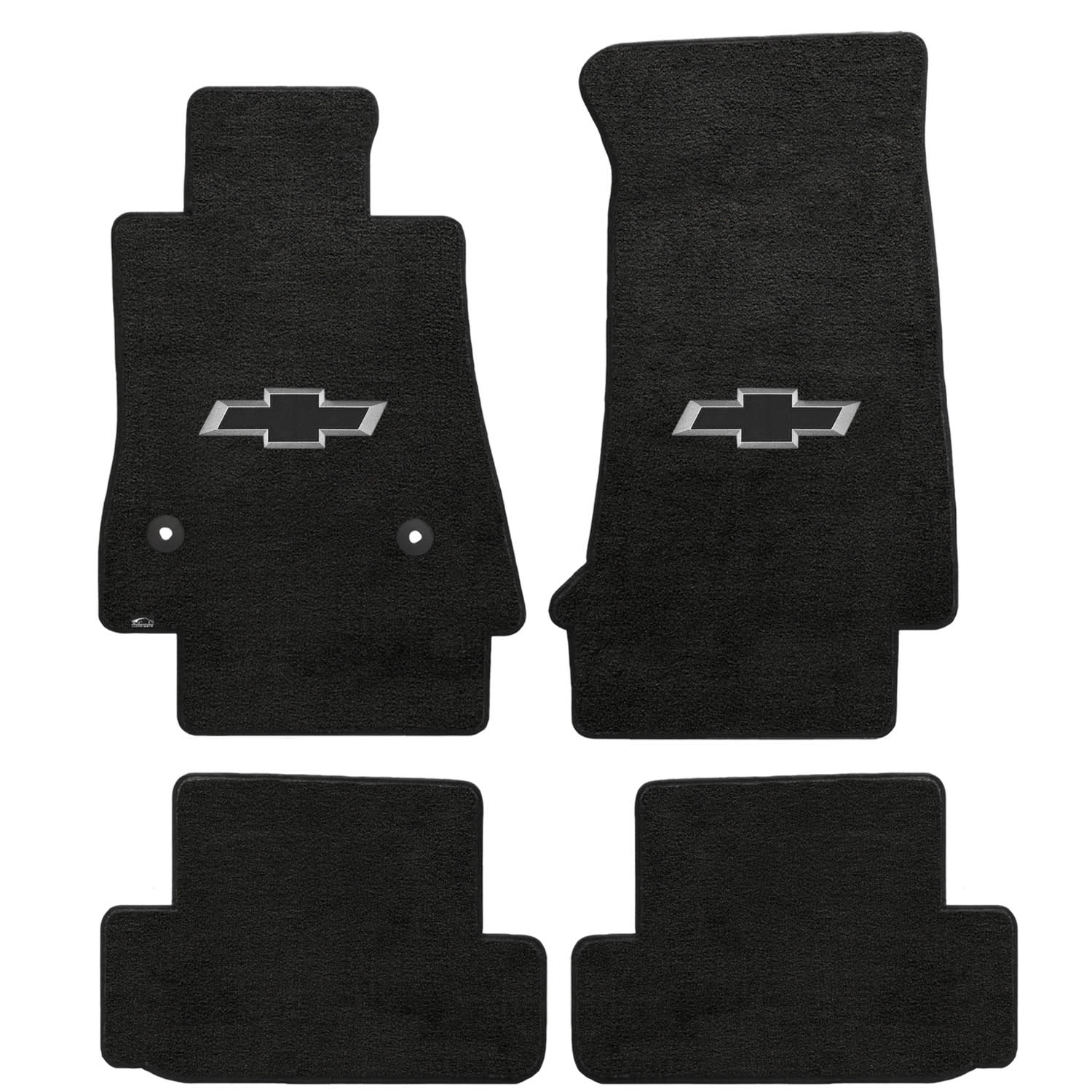 Lloyd Mat's CHEVROLET CAMARO 2016-2017 Front and Rear Floor Mats EBONY VELOURTEX CAMARO + RS RED DOUBLE LOGO - 620203 - (2017 2016)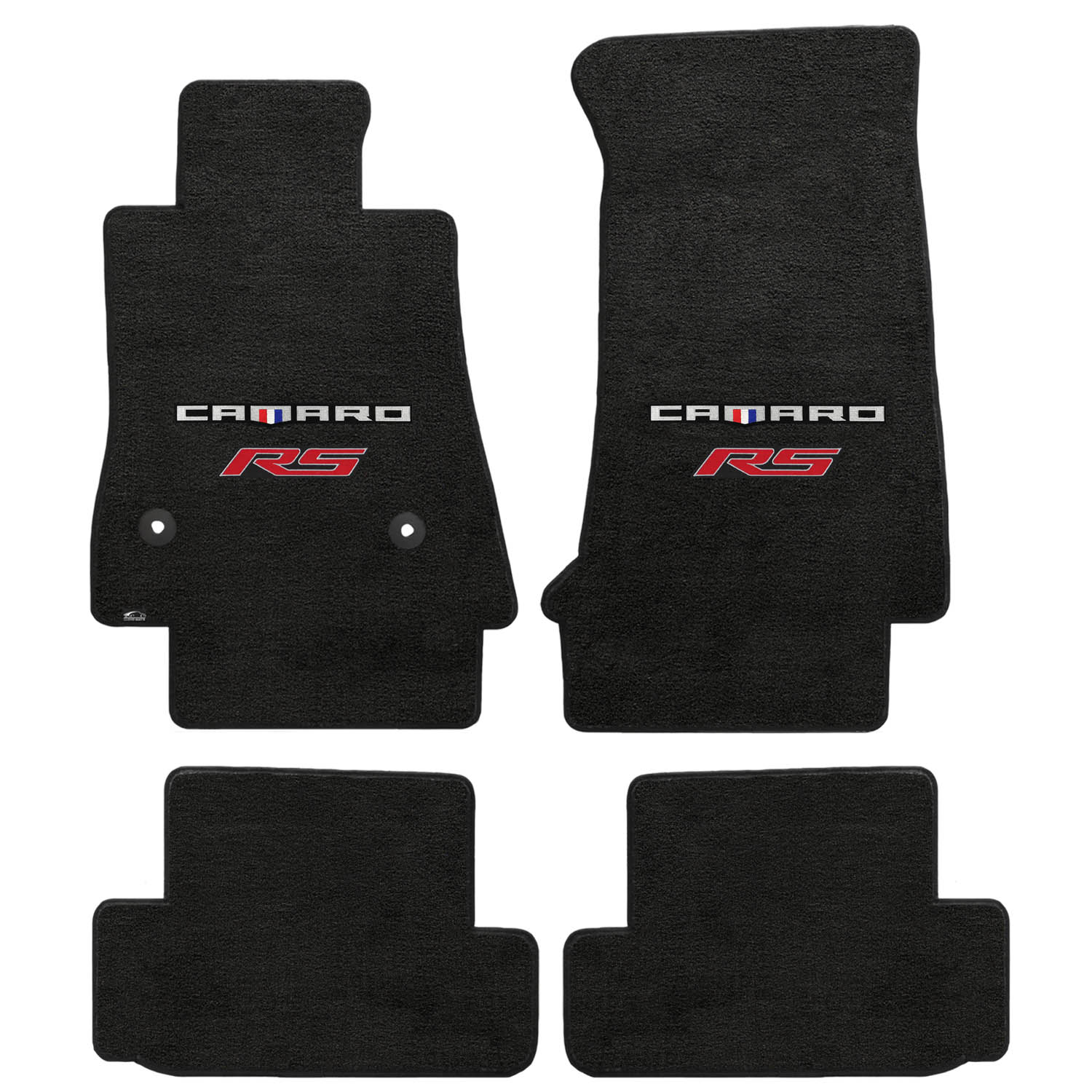 Lloyd Mat's CHEVROLET CAMARO 2016-2017 Front and Rear Floor Mats EBONY VELOURTEX CAMARO + SS RED DOUBLE LOGO - 620197 - (2017 2016)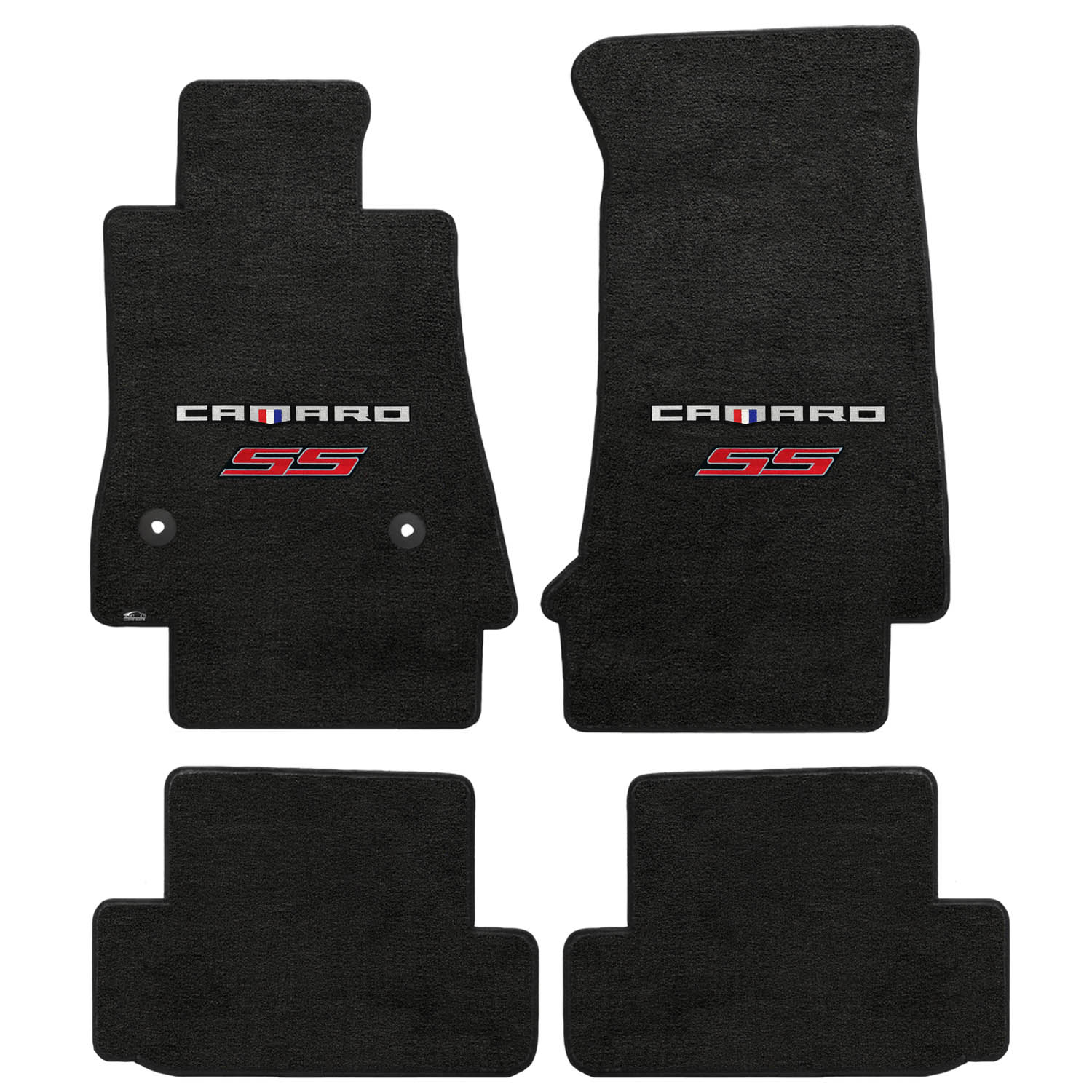 Lloyd Mat's CHEVROLET CAMARO 2016-2017 Front and Rear Floor Mats EBONY VELOURTEX CAMARO + SS SILVER DOUBLE LOGO - 620200 - (2017 2016)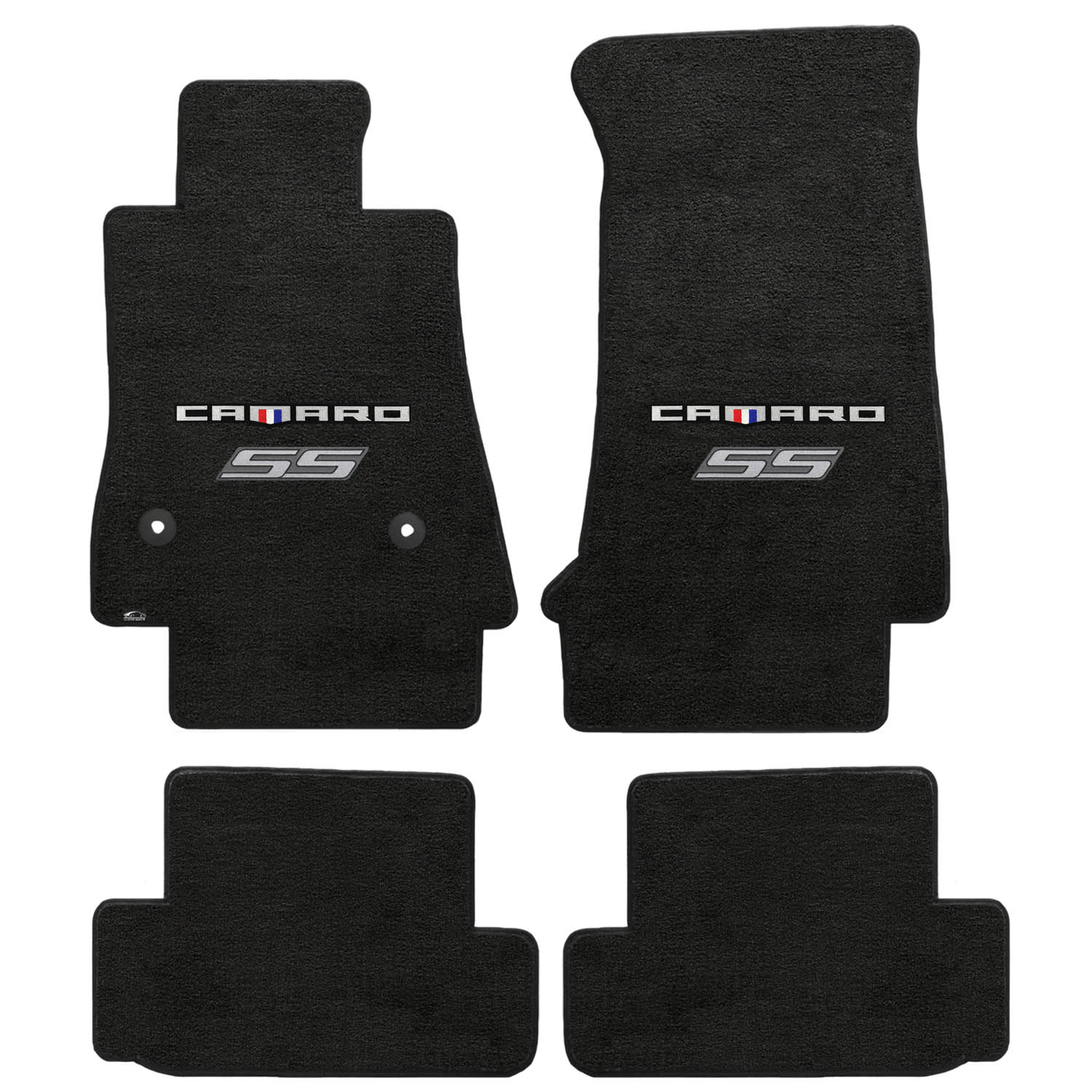 Lloyd Mat's CHEVROLET CAMARO 2016-2017 Front and Rear Floor Mats EBONY VELOURTEX CAMARO SHIELD LOGO - 620151 - (2017 2016)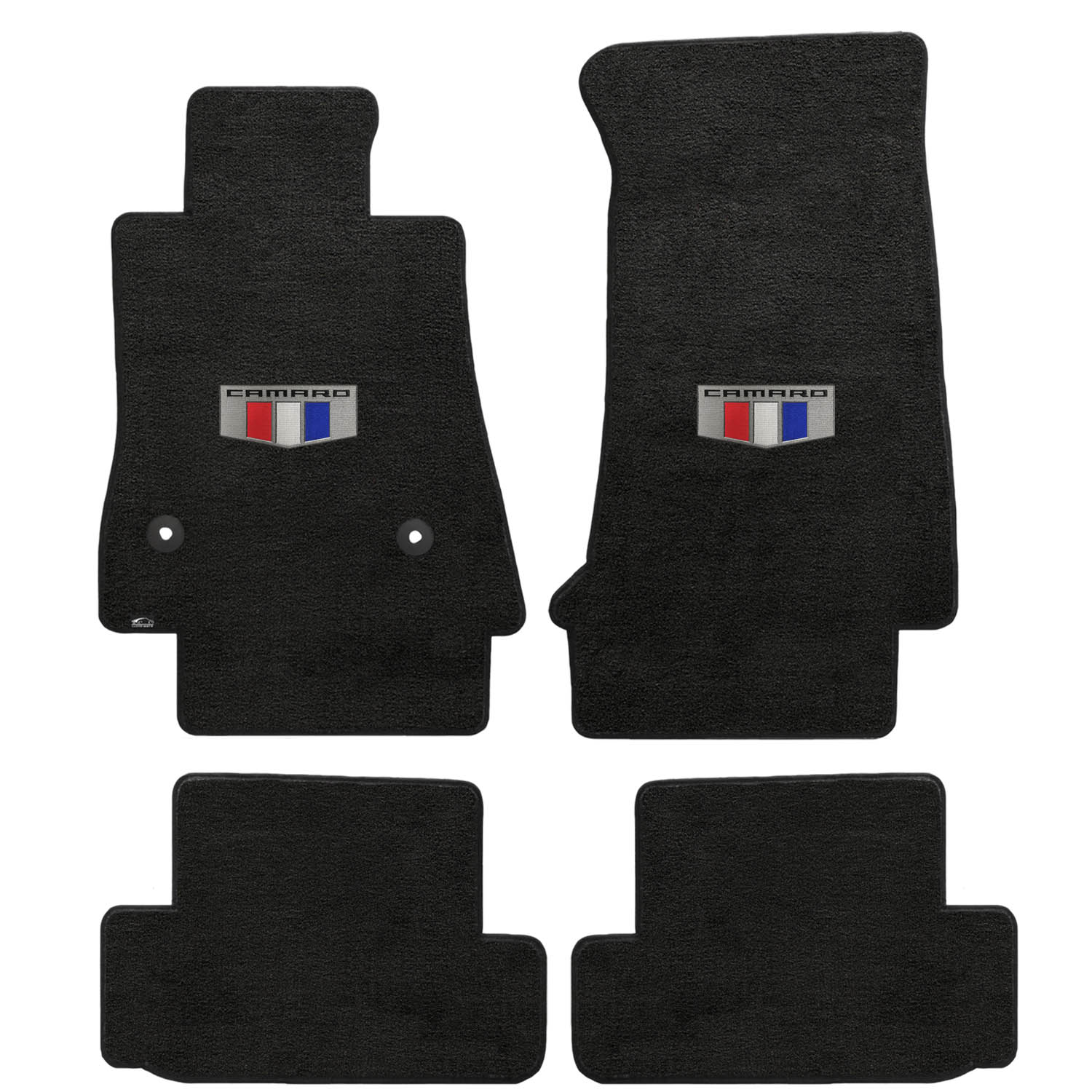 Lloyd Mat's CHEVROLET CAMARO 2016-2017 Front and Rear Floor Mats EBONY VELOURTEX CAMARO WORD LOGO - 620150 - (2017 2016)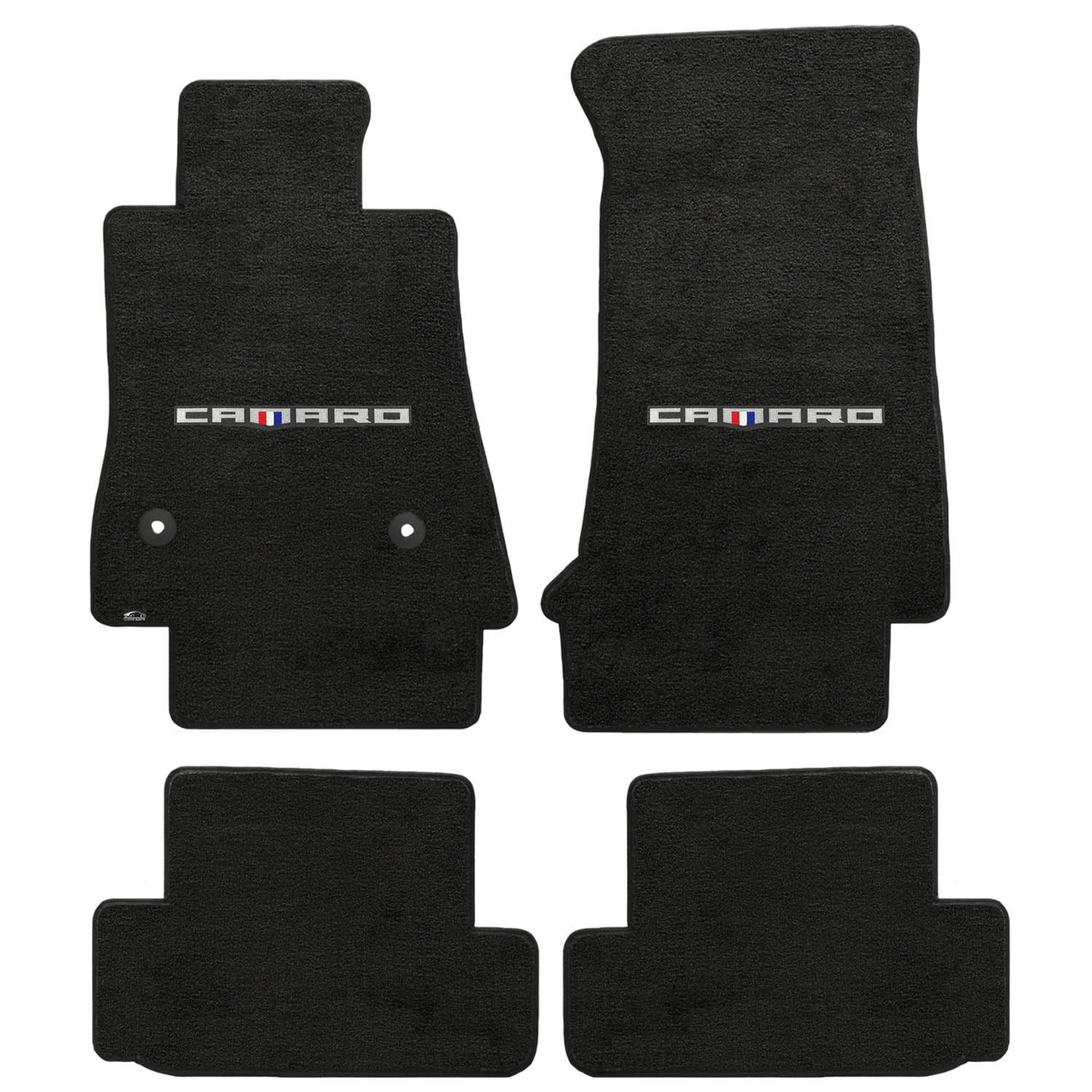 Lloyd Mat's CHEVROLET CAMARO 2016-2017 Front and Rear Floor Mats EBONY VELOURTEX SS RED LOGO - 620191 - (2017 2016)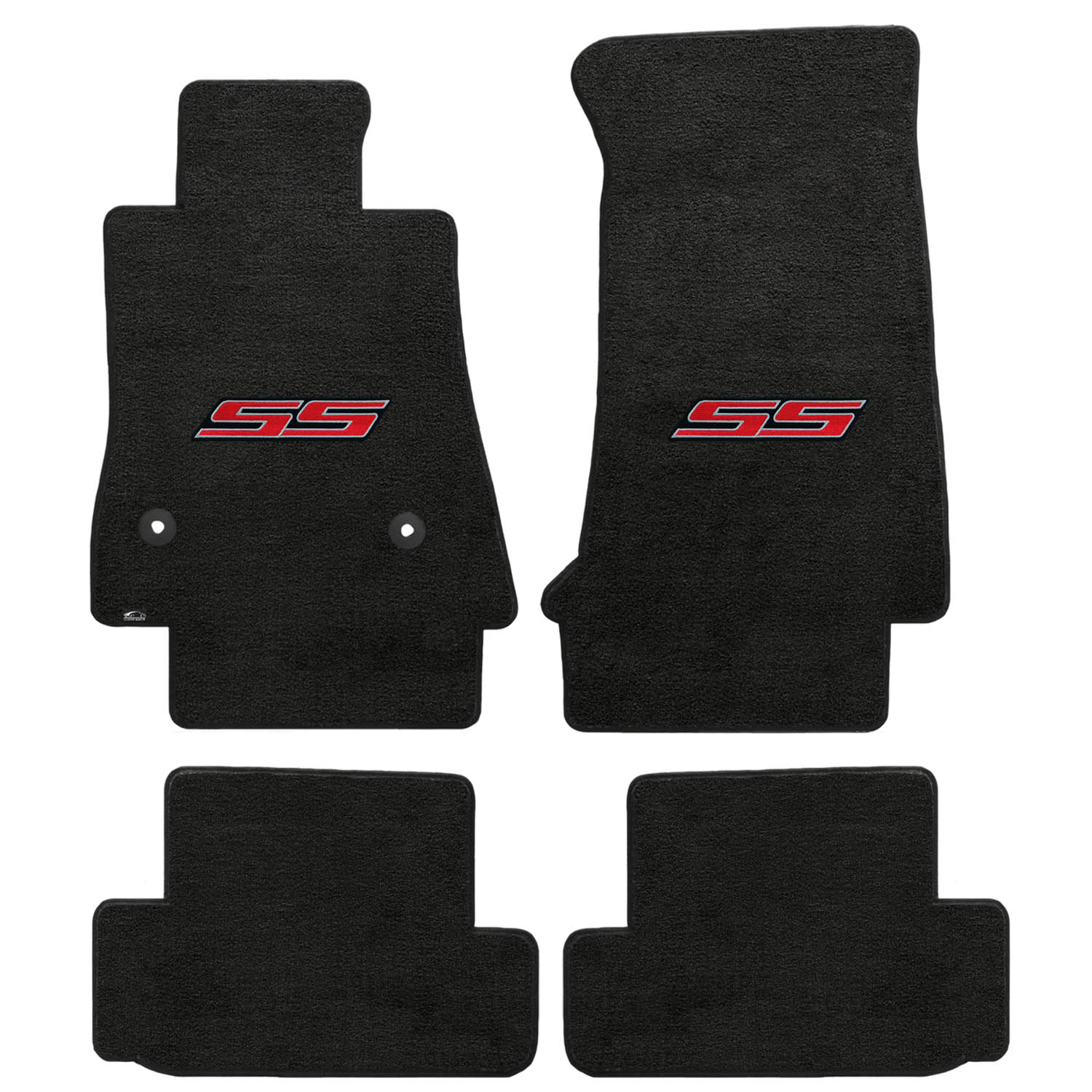 Lloyd Mat's CHEVROLET CAMARO 2016-2017 Front and Rear Floor Mats EBONY VELOURTEX SS SILVER LOGO - 620194 - (2017 2016)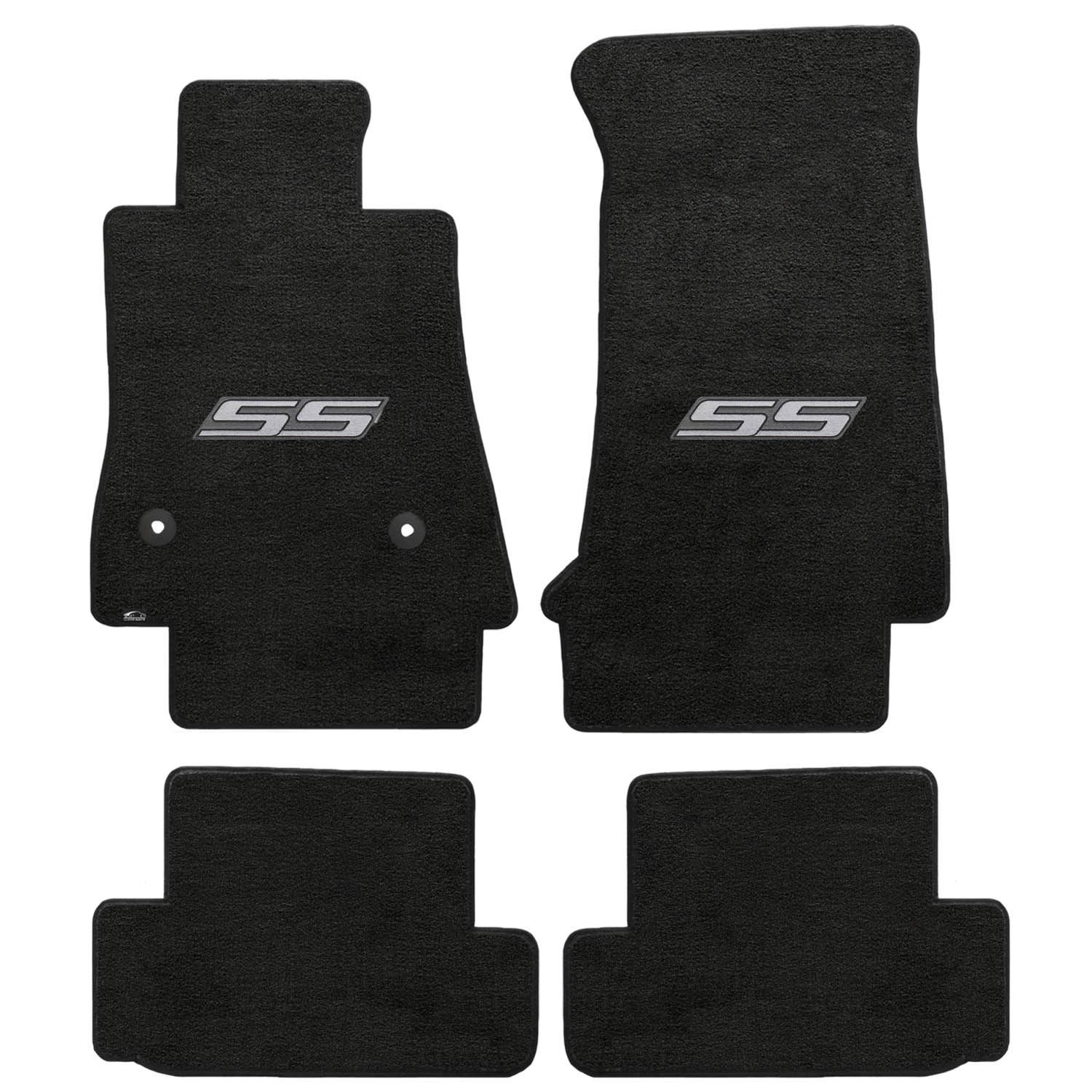 Lloyd Mat's CHEVROLET CAMARO 2016-2017 Front Floor Mats EBONY ULTIMAT BLACK 3D BOWTIE - 600153 - (2017 2016)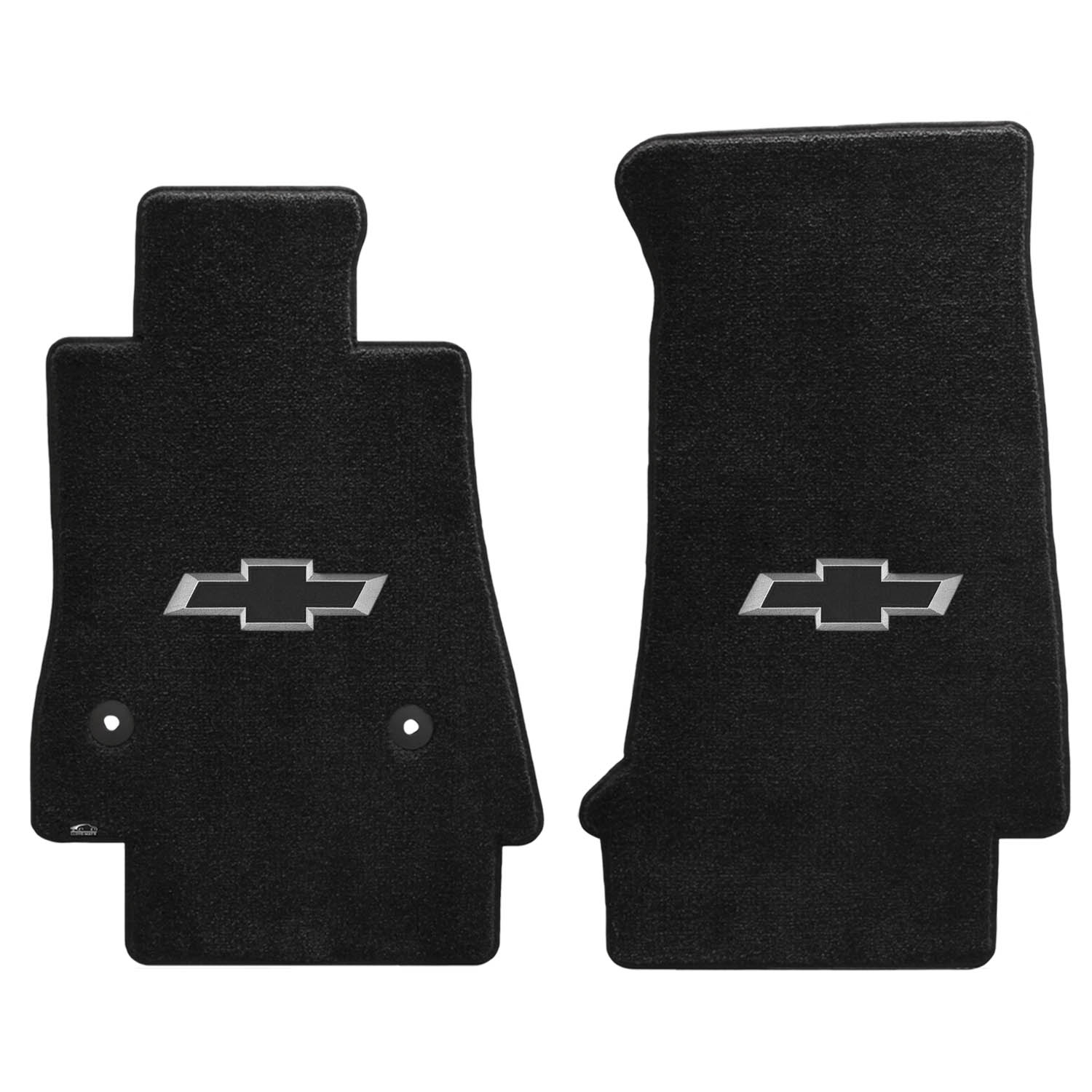 Lloyd Mat's CHEVROLET CAMARO 2016-2017 Front Floor Mats EBONY ULTIMAT CAMARO + RS RED DOUBLE LOGO - 600297 - (2017 2016)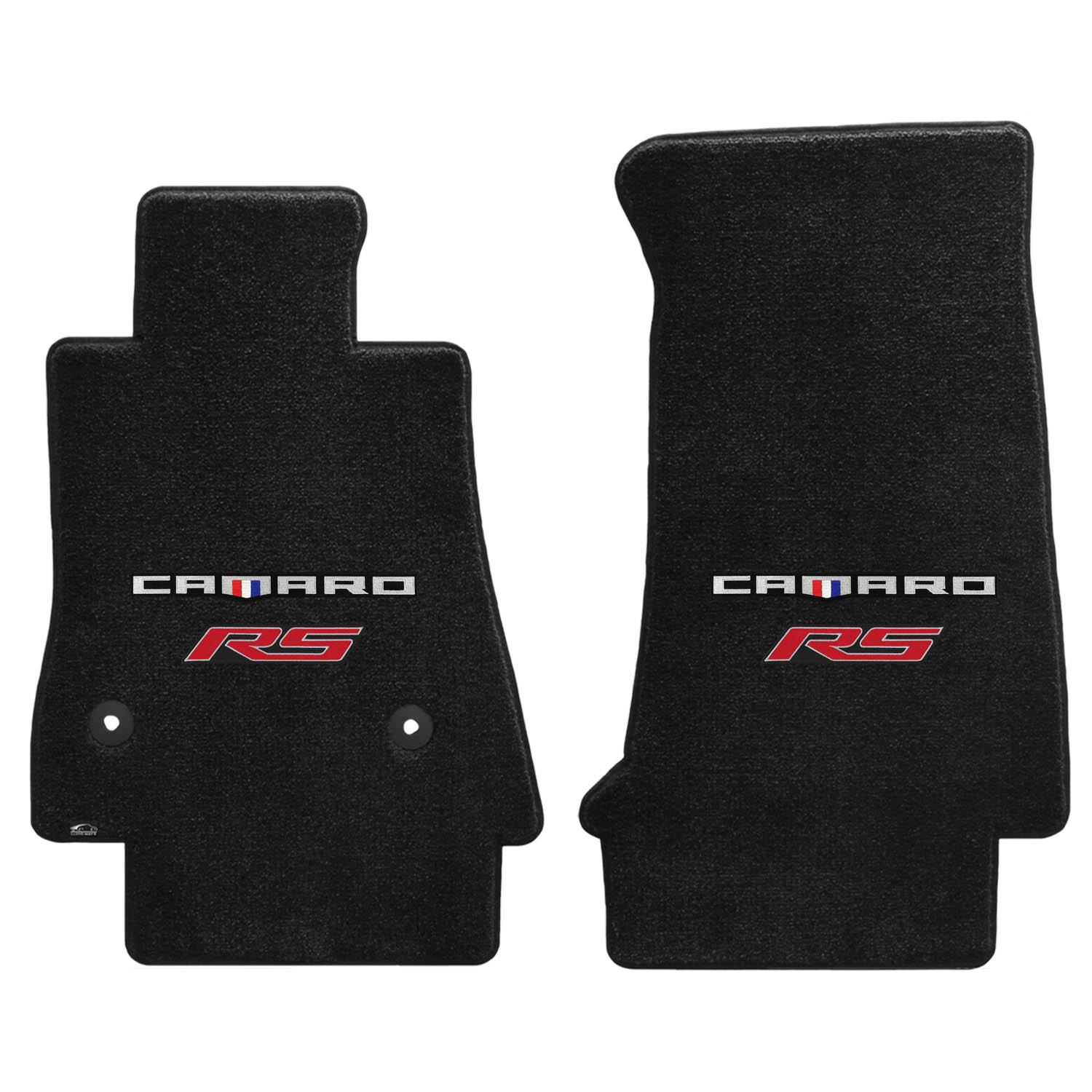 Lloyd Mat's CHEVROLET CAMARO 2016-2017 Front Floor Mats EBONY ULTIMAT CAMARO + SS RED DOUBLE LOGO - 600291 - (2017 2016)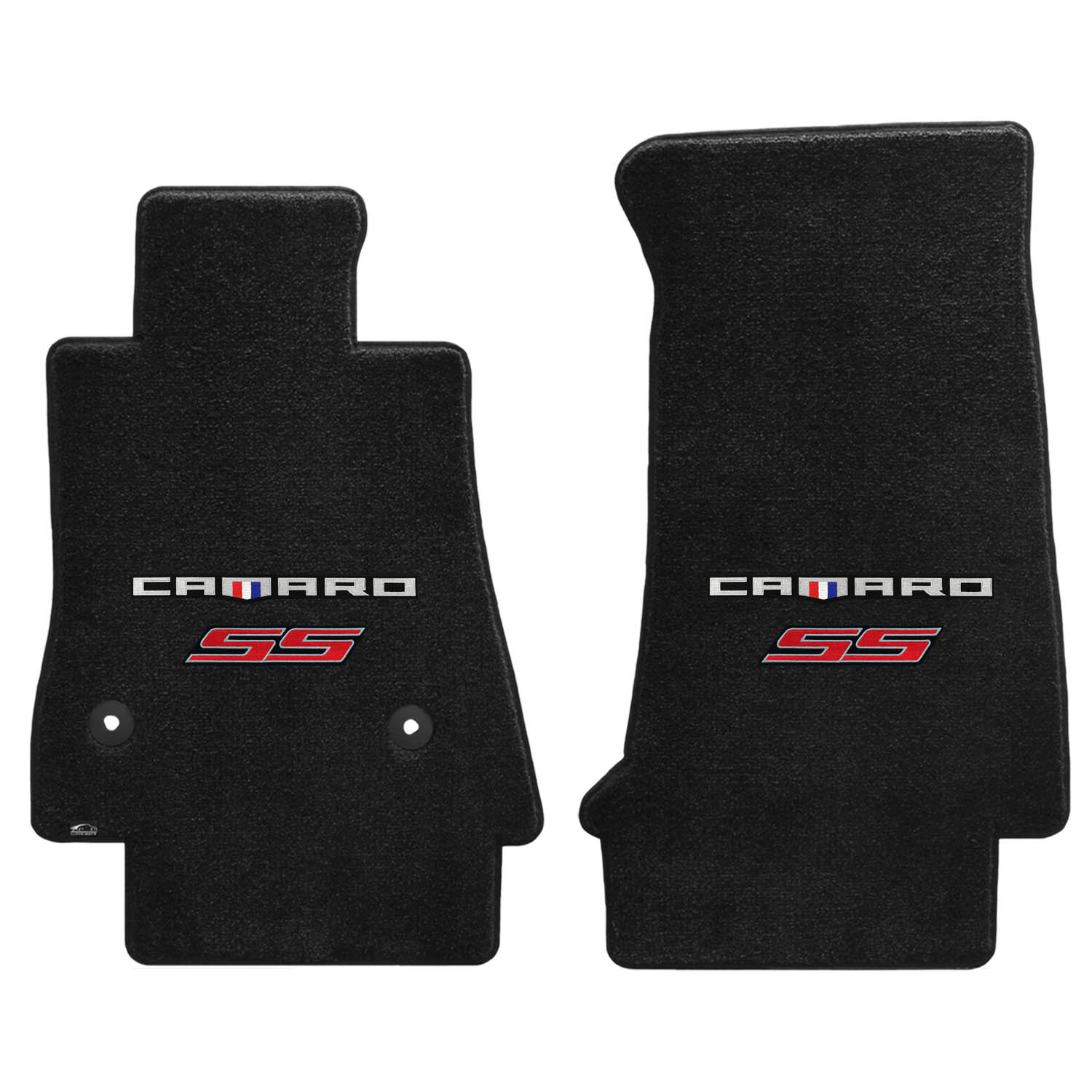 Lloyd Mat's CHEVROLET CAMARO 2016-2017 Front Floor Mats EBONY ULTIMAT CAMARO + SS SILVER DOUBLE LOGO - 600294 - (2017 2016)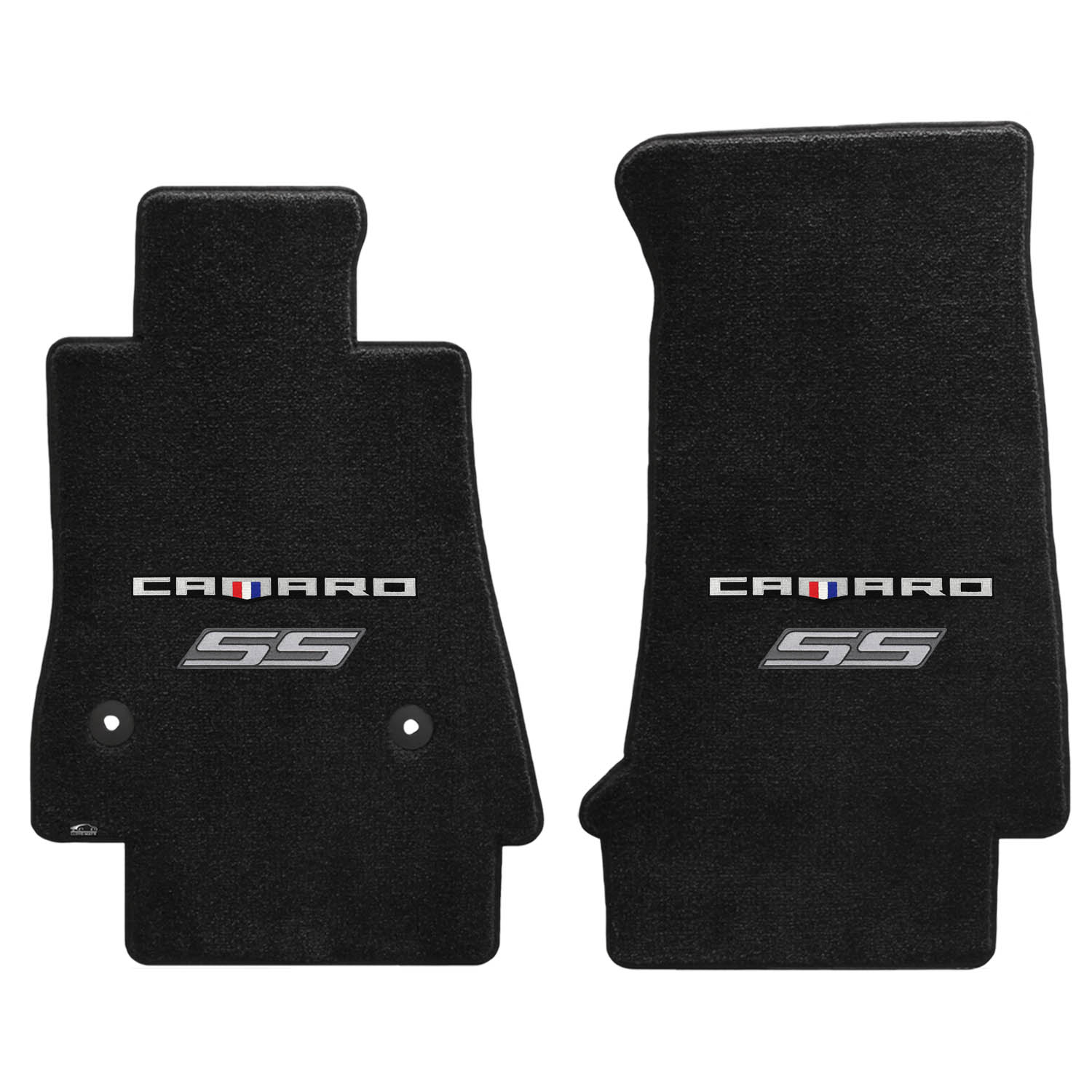 Lloyd Mat's CHEVROLET CAMARO 2016-2017 Front Floor Mats EBONY ULTIMAT CAMARO SHIELD LOGO - 600152 - (2017 2016)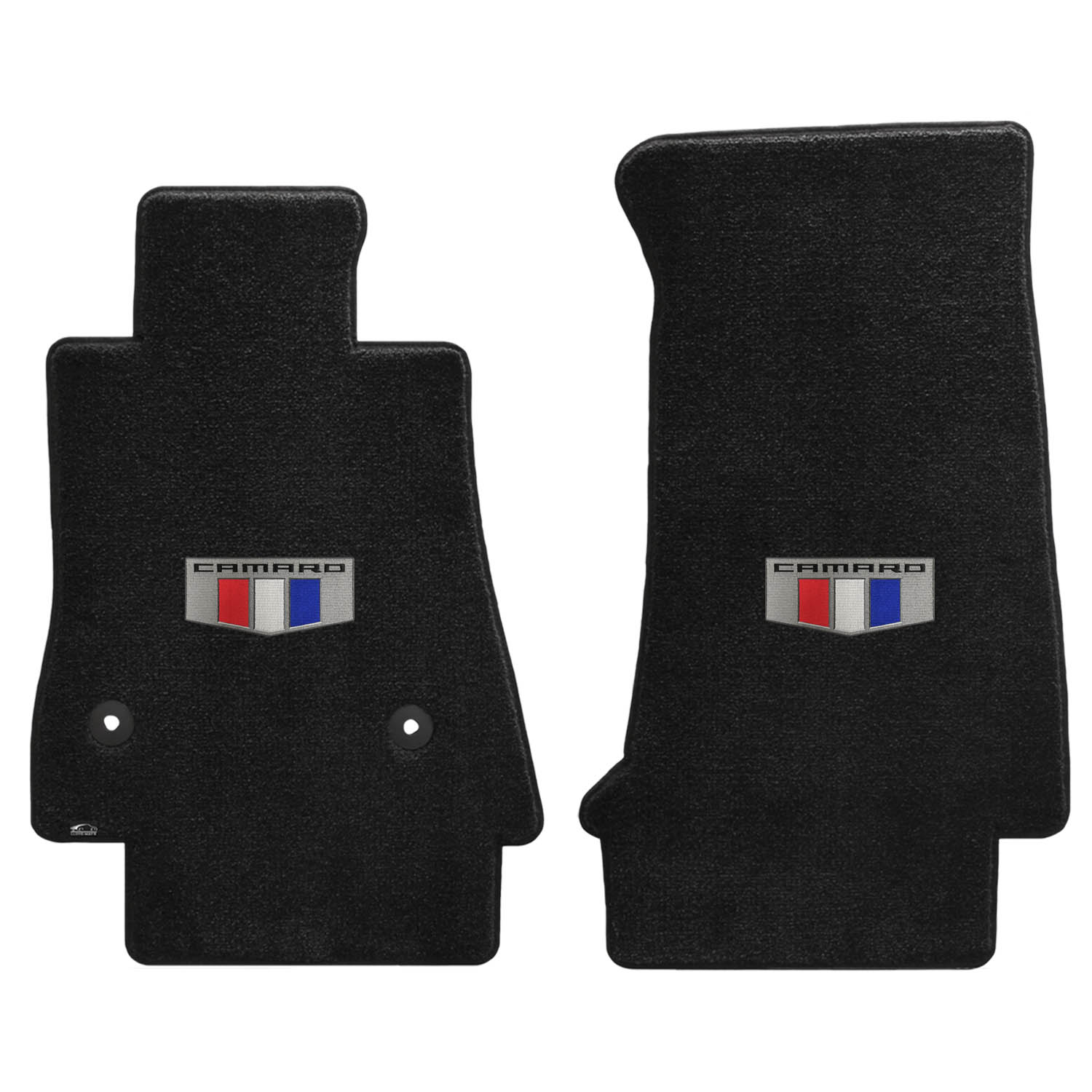 Lloyd Mat's CHEVROLET CAMARO 2016-2017 Front Floor Mats EBONY ULTIMAT CAMARO WORD LOGO - 600151 - (2017 2016)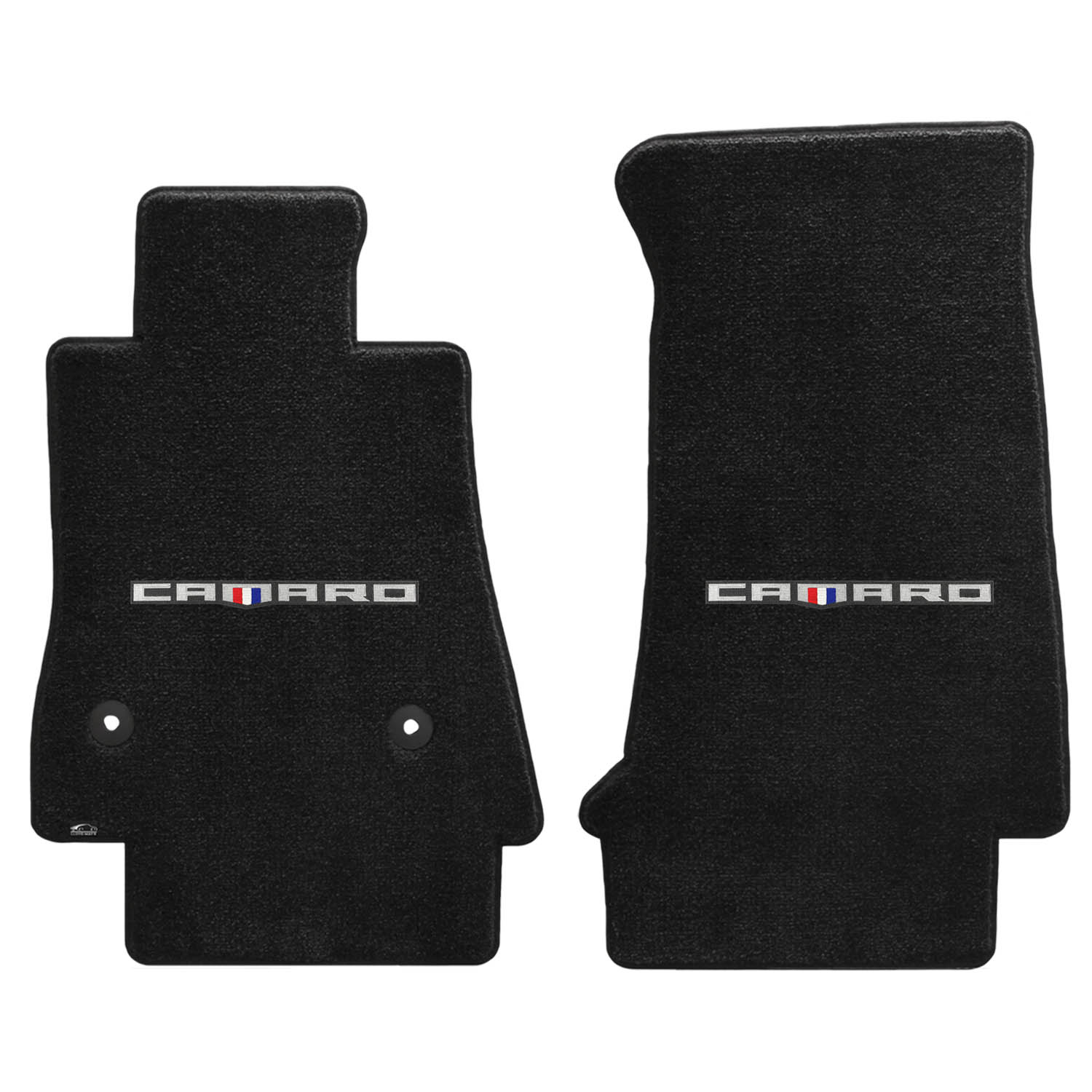 Lloyd Mat's CHEVROLET CAMARO 2016-2017 Front Floor Mats EBONY ULTIMAT SS RED LOGO - 600285 - (2017 2016)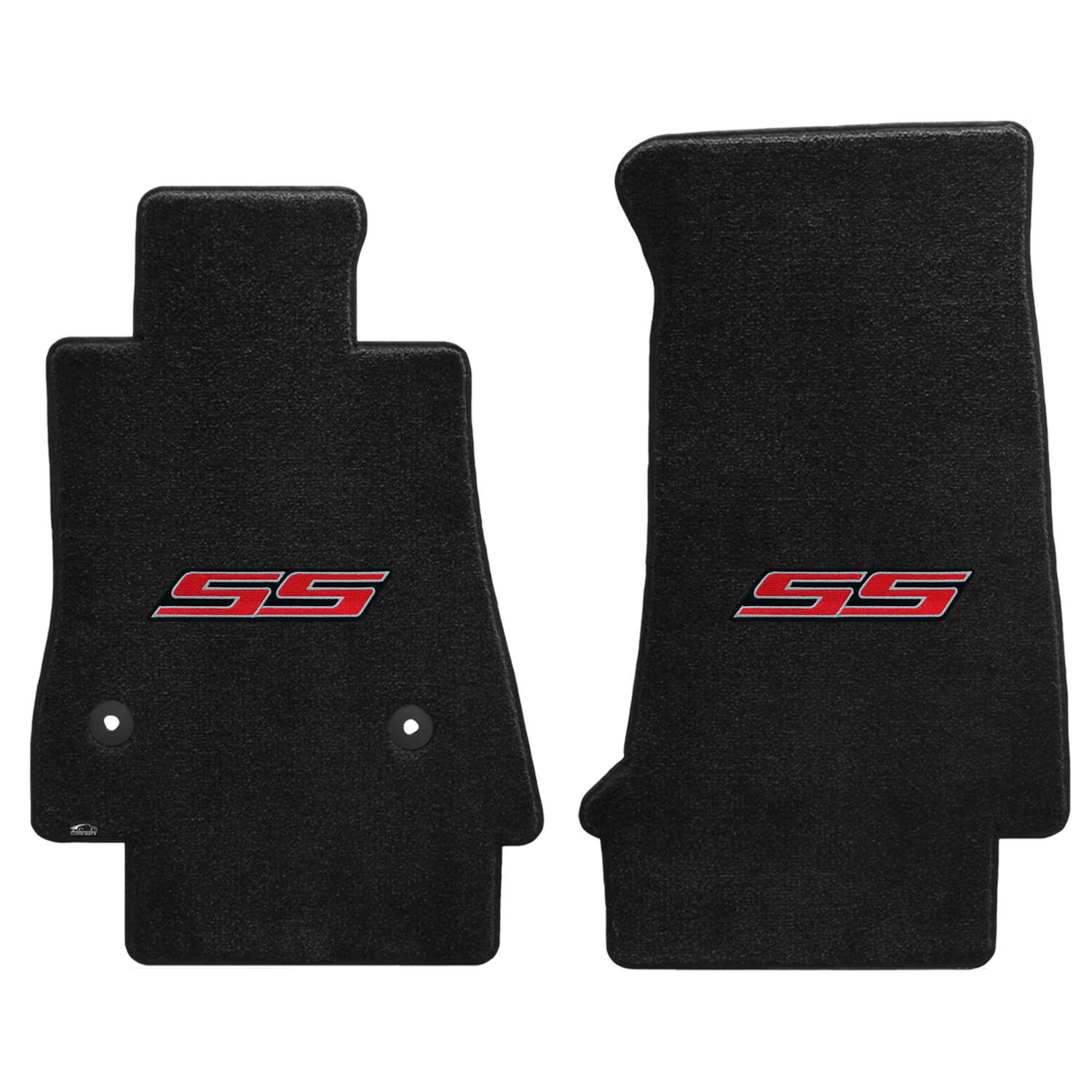 Lloyd Mat's CHEVROLET CAMARO 2016-2017 Front Floor Mats EBONY ULTIMAT SS SILVER LOGO - 600288 - (2017 2016)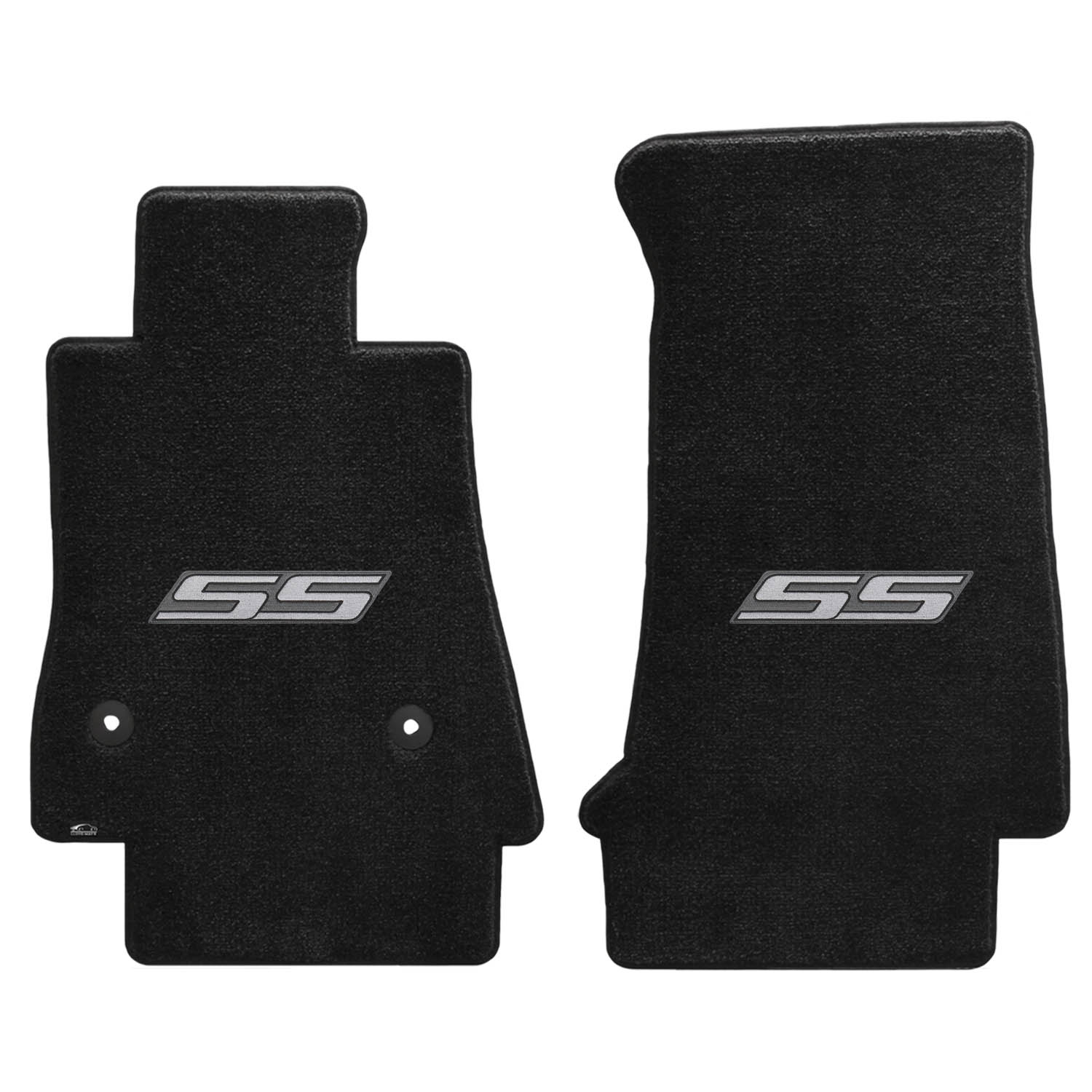 Lloyd Mat's CHEVROLET CAMARO 2016-2017 Front Floor Mats EBONY VELOURTEX BLACK 3D BOWTIE - 620149 - (2017 2016)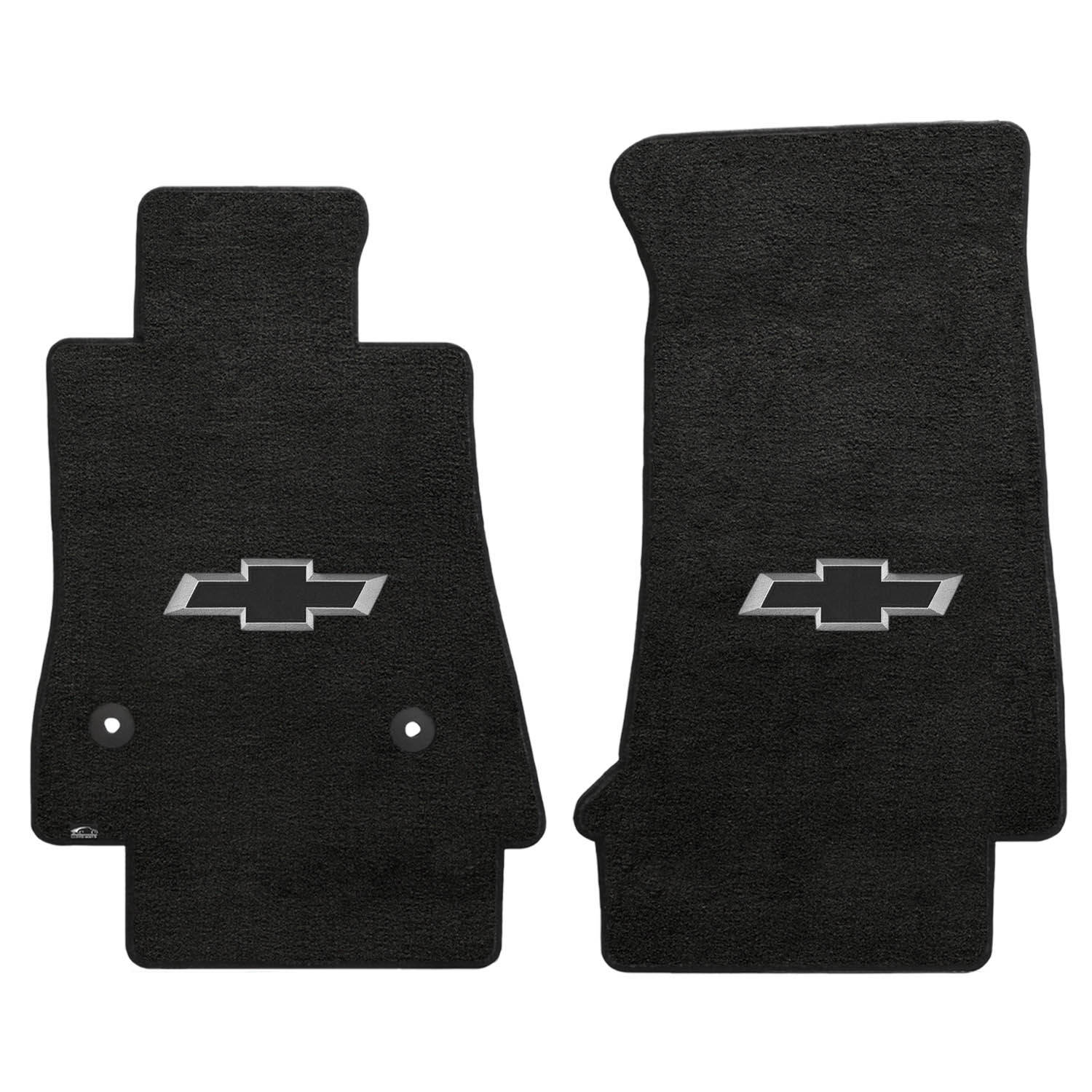 Lloyd Mat's CHEVROLET CAMARO 2016-2017 Front Floor Mats EBONY VELOURTEX CAMARO + RS RED DOUBLE LOGO - 620202 - (2017 2016)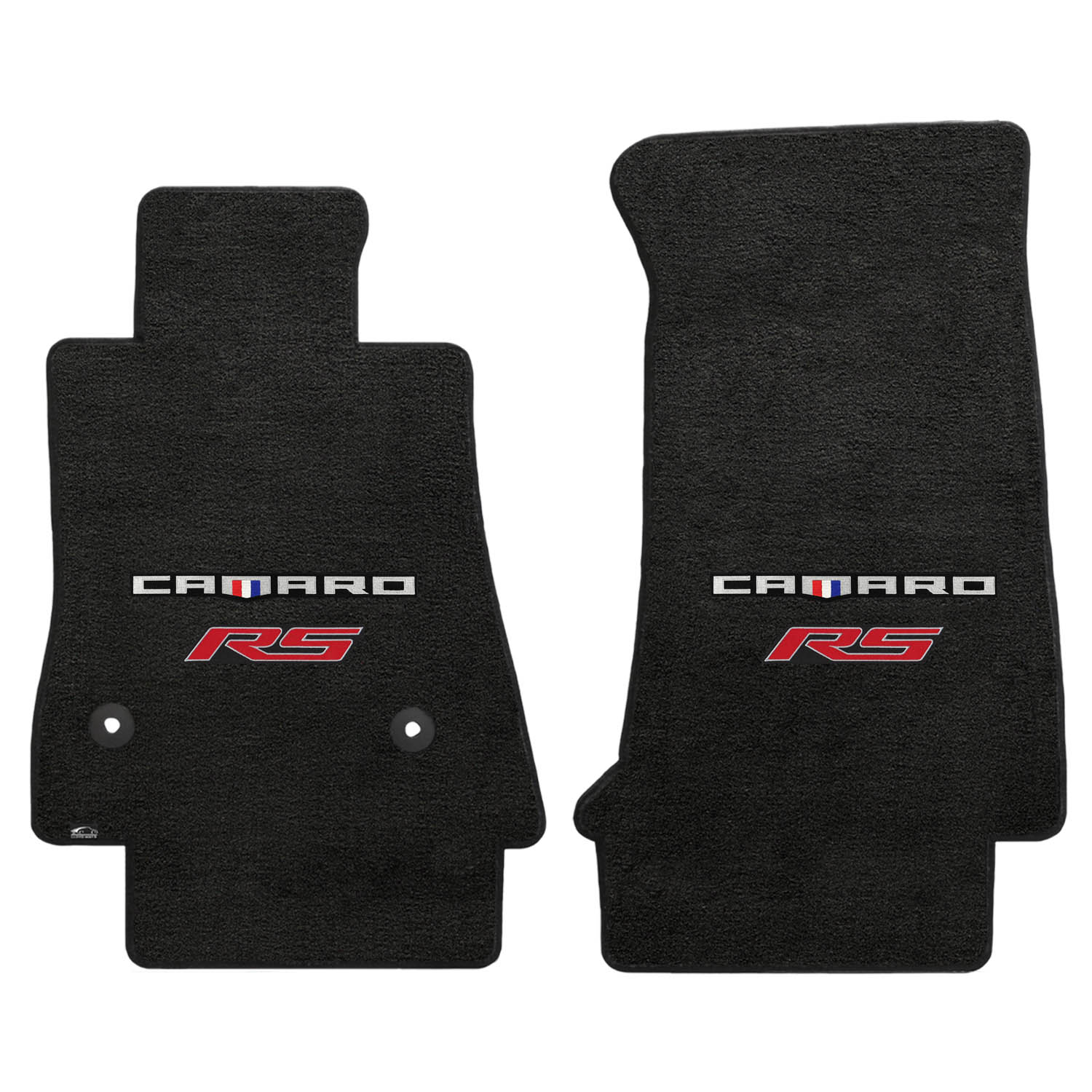 Lloyd Mat's CHEVROLET CAMARO 2016-2017 Front Floor Mats EBONY VELOURTEX CAMARO + SS RED DOUBLE LOGO - 620196 - (2017 2016)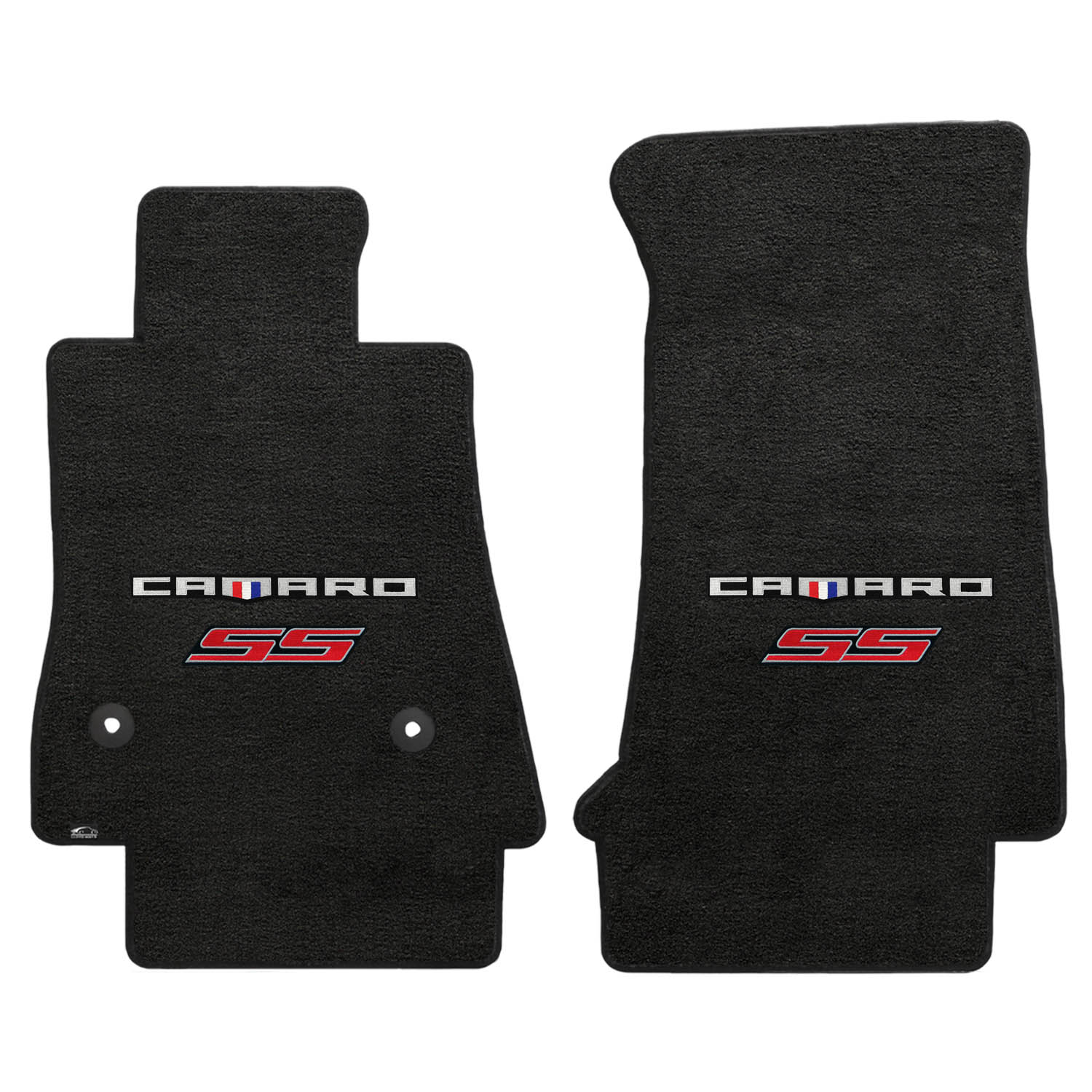 Lloyd Mat's CHEVROLET CAMARO 2016-2017 Front Floor Mats EBONY VELOURTEX CAMARO + SS SILVER DOUBLE LOGO - 620199 - (2017 2016)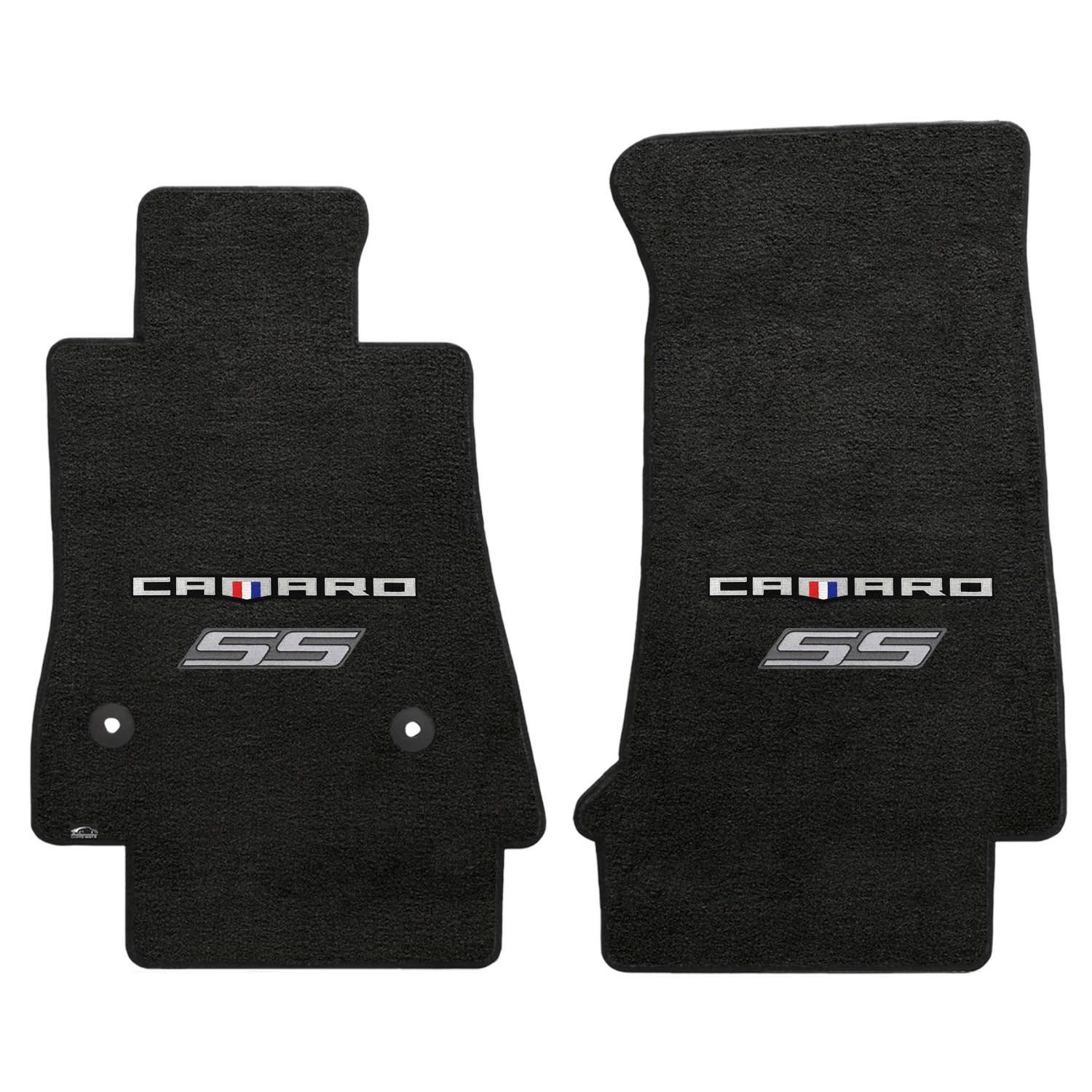 Lloyd Mat's CHEVROLET CAMARO 2016-2017 Front Floor Mats EBONY VELOURTEX CAMARO SHIELD LOGO - 620148 - (2017 2016)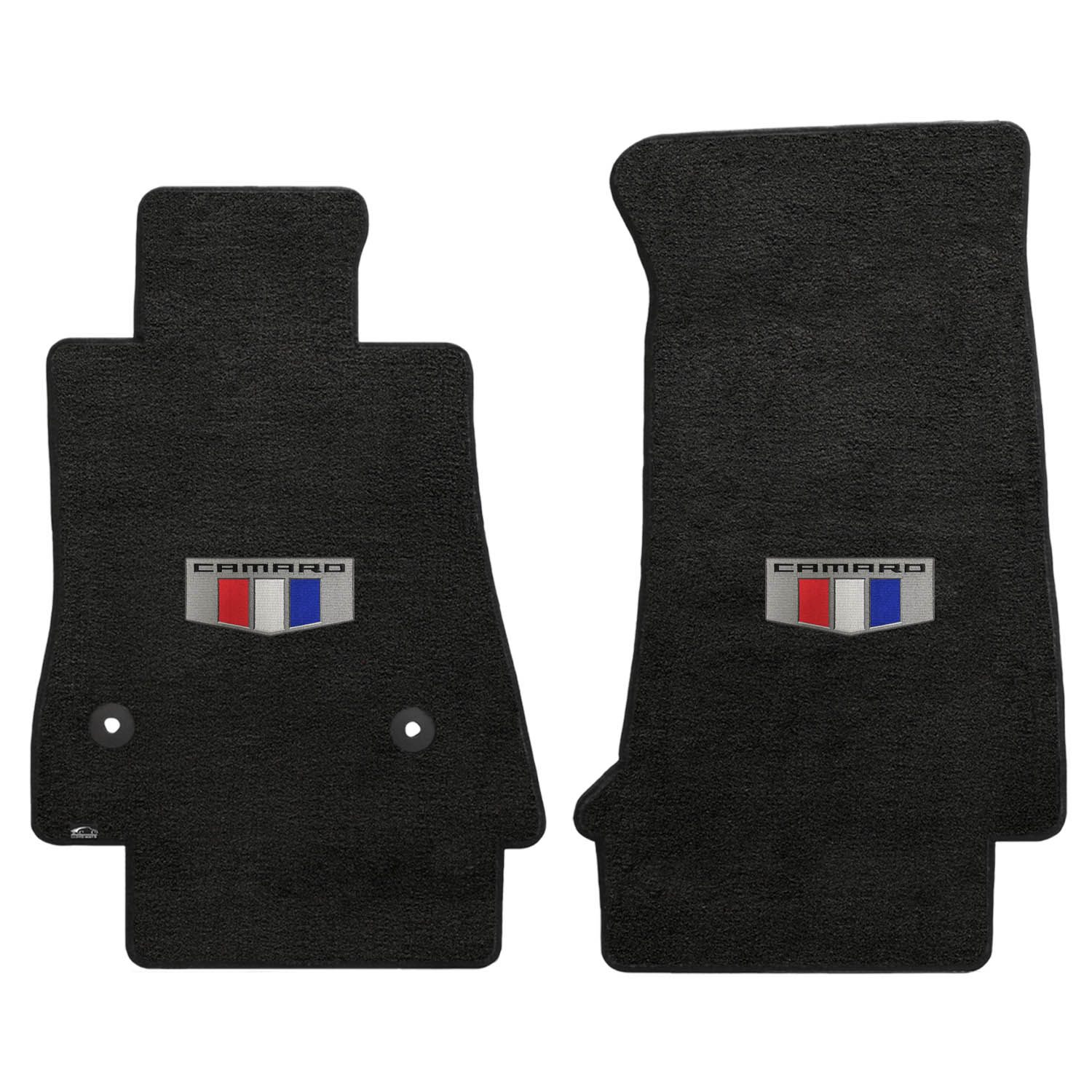 Lloyd Mat's CHEVROLET CAMARO 2016-2017 Front Floor Mats EBONY VELOURTEX CAMARO WORD LOGO - 620147 - (2017 2016)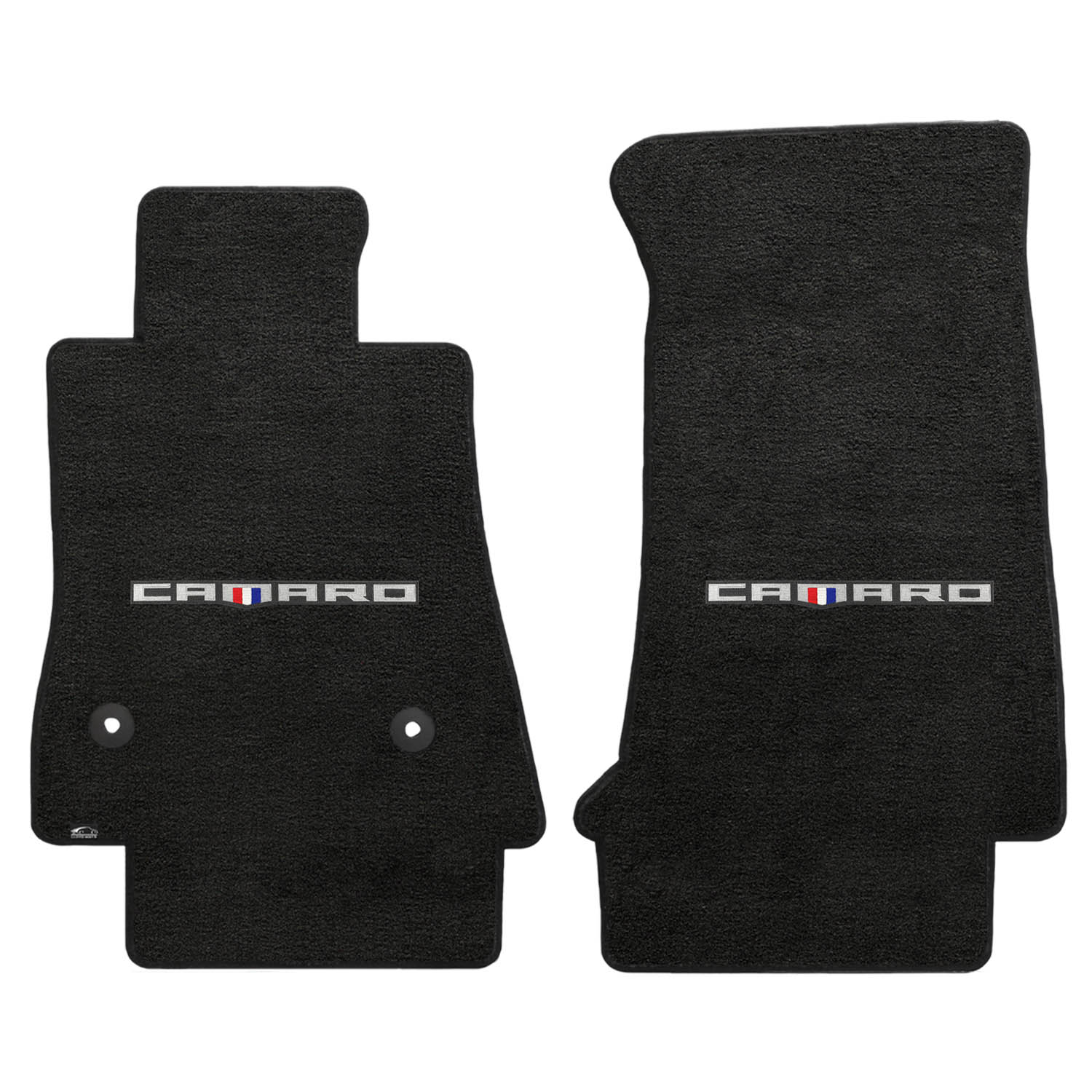 Lloyd Mat's CHEVROLET CAMARO 2016-2017 Front Floor Mats EBONY VELOURTEX SS RED LOGO - 620190 - (2017 2016)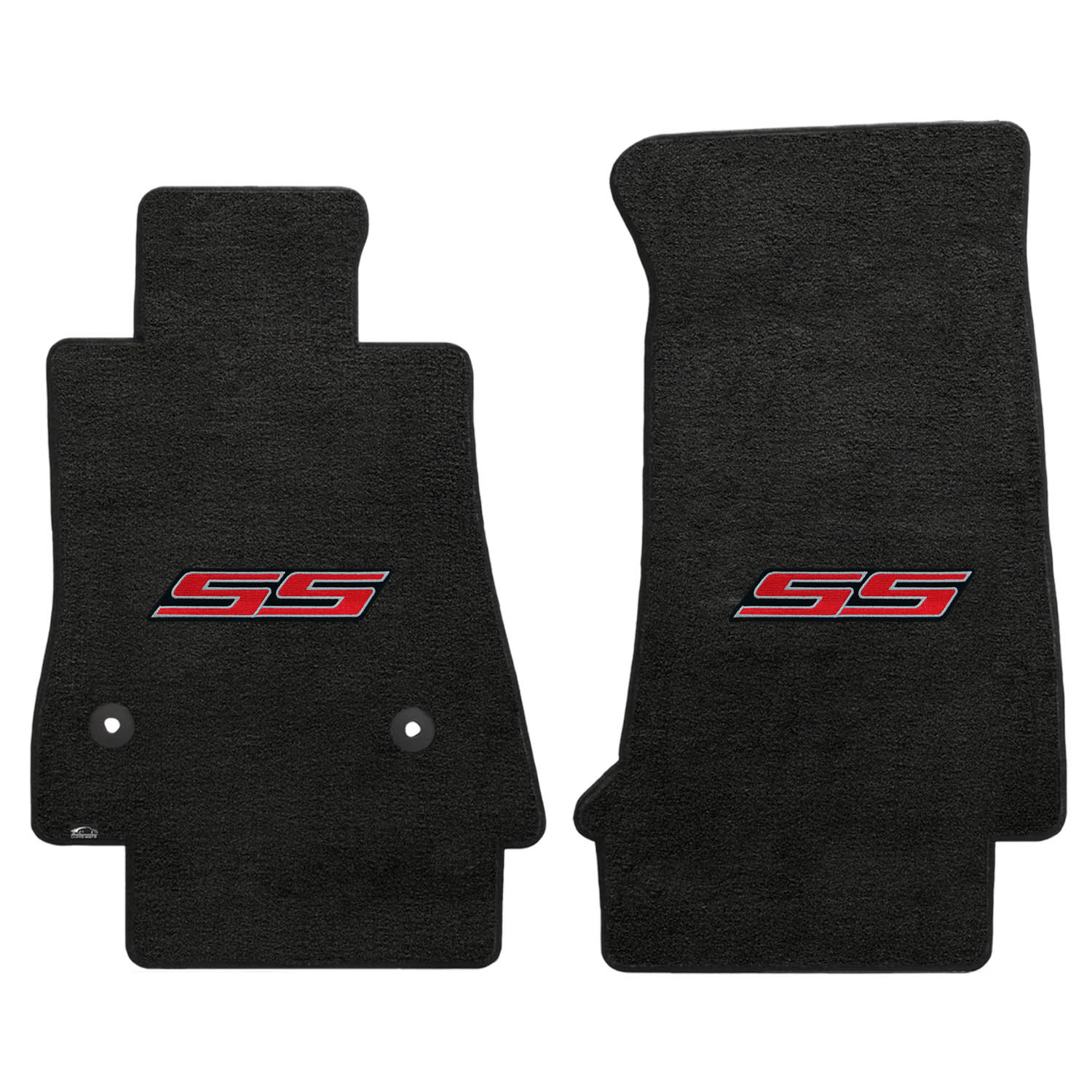 Lloyd Mat's CHEVROLET CAMARO 2016-2017 Front Floor Mats EBONY VELOURTEX SS SILVER LOGO - 620193 - (2017 2016)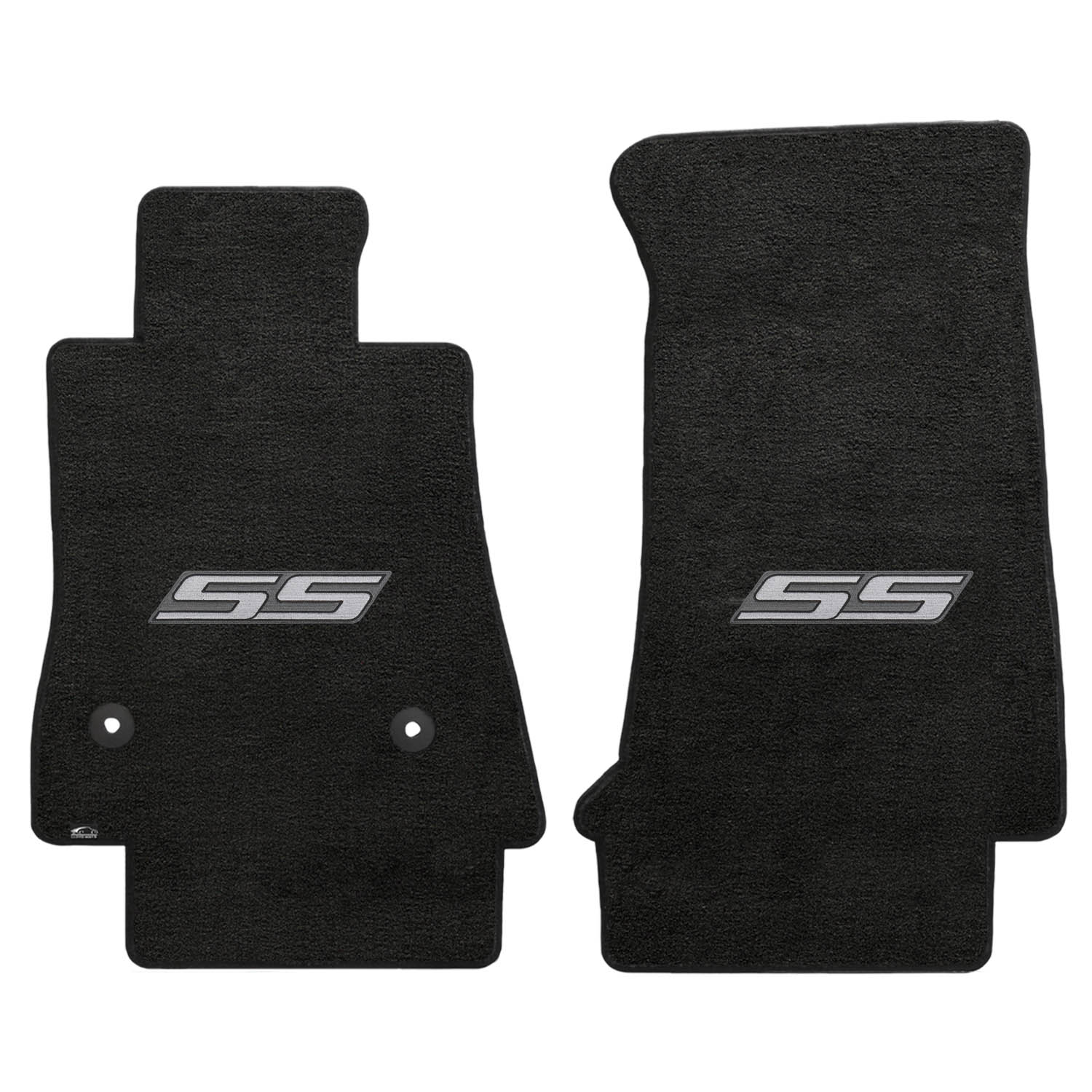 ---